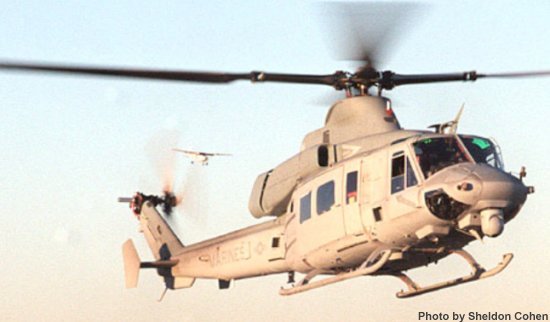 Bell Helicopter, December 21, 2001 - Arlington, Texas, USA - The US Marine Corps newest utility helicopter, the UH-1Y achieved a successful first flight of 0.6 hour, In Ground Effect (IGE) flight on Thursday, December 20, 2001.

The aircraft lifted off at 1640 CST at the Bell Flight Research Center (Plant 6), Arlington, TX. Bell will produce 100 UH-1Y aircraft as part of the $4.5 Billion H-1 Program which also includes 180 AH-1Z attack helicopters.

The flight profile consisted of low and high IGE hovers, Pedal turns, acceleration to an estimated 27 kts. (12 knots wind + 15 kts ground speed). The Flight crew consisted of Monte Nelson, Bell Helicopter and Maj William Randall, USMC. Both pilots flew the aircraft and commented; "everything went well." Over the past two weeks the UH-1Y went through nearly 15 hours of ground runs.

The H-1 Program is a major upgrade to remanufacture the US Marine Corps fleet of AH-1W SuperCobra and UH-1N utility helicopters to an advanced configuration featuring common engines and flight dynamics.

The H-1 upgrades include an enormous amount of commonality between the two aircraft including engines (GE-T700 engines), four blade all composite, hingeless, bearingless main rotor system and tail rotor, identical drive trains, hydraulics and electrical distribution systems.

By utilizing common systems the cost of the logistics support process for the two helicopters reduces dramatically allowing for vastly improved shipboard operability.

Far less critical shipboard space will be needed to store spare parts and support equipment to support the two helicopters comprising the H-1 Program.


The AH-1Z attack helicopter which is currently in flight test at the Patuxent River Naval Air Station, Maryland, flew five hours last week and has accumulated 181.8 total flight hours.
Location :

Arlington
UH-1Y Venom in

US Marine Corps