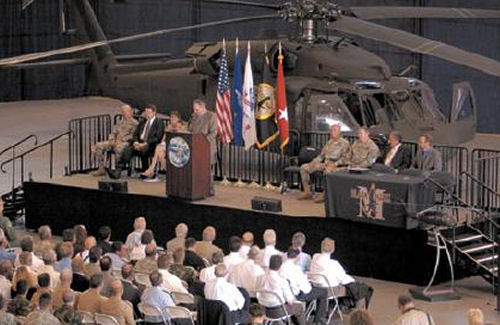 Sikorsky, July 31, 2006 - Hartford, Connecticut - In a rollout ceremony attended by hundreds of government officials, military personnel, and employees, Sikorsky Aircraft launched a new era today with delivery of the U.S. Army's first production UH-60M BLACK HAWK helicopter. Sikorsky is a United Technologies Corp. company.

With a new airframe, avionics and propulsion system, the UH-60M is the latest and most modern in a series of BLACK HAWK variants that Sikorsky has been delivering to the army since 1978.

"The UH-60M will provide reduced pilot workload, increased lift, better protection and enhanced survivability," said Sikorsky President Jeff Pino, a retired U.S. Army Master Aviator with 26 years combined active, reserve and National Guard duty. "The new UH-60M BLACK HAWK is ideally suited for its mission and provides a safer, more responsive, deployable, versatile and effective weapon system for the army."

The army currently has more than 1,500 BLACK HAWK variants with more than 4.6 million combined flight hours in inventory, constituting the world's largest and most battle-tested BLACK HAWK fleet. The UH-60M variant is slated to replace older BLACK HAWKs and form the foundation of the army's future utility aircraft fleet.

"The BLACK HAWK is a great aircraft, the nation's battlefield transport of choice," Pino said. "With the UH-60M, the army and Sikorsky are ready to build upon that tradition and ensure the BLACK HAWK will continue in that role for generations to come."

The UH-60M is currently in Low Rate Initial Production (LRIP), the final phase in a defense acquisition program before a full-rate production decision is made. A decision by the Pentagon and army to enter full rate production of 1,200 or more UH-60M BLACK HAWKs is scheduled for 2007. Exact procurement numbers year-to-year and across the life of the program will be determined by budget authorizations and specific contract awards.

The initial LRIP aircraft delivered today is the second 'new-build' UH-60M BLACK HAWK. Seven of the eight UH-60Ms produced in the previous Integration and Qualification phase of the program were made from older aircraft taken from the fleet and rebuilt to the new UH-60M configuration. The eight IQ aircraft have compiled more than 850 flight hours since September 2003.

The first and second LRIP aircraft along with four of the IQ aircraft will enter army Operational Testing and Evaluation (OT&E) in October. The army plans to equip a combat unit with the UH-60M shortly after completion of OT&E.

The UH-60M provides additional payload and range, advanced digital avionics, better handling qualities and situational awareness, active vibration control, improved survivability, and improved producibility.

The UH-60M BLACK HAWK will become an integral part of the army's command and control system, providing brigade commanders with real time digital situational awareness and command and control options. UH-60M crews will benefit from reduced pilot workload and a new standard of protection.

The UH-60M's new composite spar wide-chord blade will provide 227 kg (500 lb) more lift than the current UH-60L blade. The new General Electric T700-GE-701D engine will add more horsepower and allow additional lift during external lift (sling load) operations.

The new cockpit contains four Rockwell Collins' multi-function displays providing primary flight, navigation, and tactical information including a fully integrated digital map, Blue Force Tracking, Stormscope lightning sensor, radar/laser warning system and a fully coupled autopilot. The narrower cockpit instrument panel will also significantly improve chin window visibility.

The UH-60M also will feature two Canadian Marconi (CMC) electronic flight management systems, dual Honeywell embedded global positioning/inertial navigation systems and an integrated vehicle health management system (IVHMS) from Goodrich. The IVHMS comprises a health and usage monitoring system (HUMS), crash-survivable cockpit voice and flight data recorder and a water-activated acoustic beacon, all contained within a single line replaceable unit.

The UH-60M represents the army's third standard baseline BLACK HAWK version in the 28-year production history of the program. Sikorsky delivered the UH-60A BLACK HAWK from 1978 until 1989. Sikorsky has been delivering the UH-60L since 1989 and is nearing the end of production of that variant for the army as it transitions to the UH-60M.

Sikorsky Aircraft Corp., based in Stratford, Conn., is a world leader in helicopter design, manufacturing and service. United Technologies Corp., of Hartford, Conn., provides a broad range of high-technology products and support services to the aerospace and building systems industries.
Black Hawk in

US Army Aviation
Sikorsky UH-60M Black Hawk