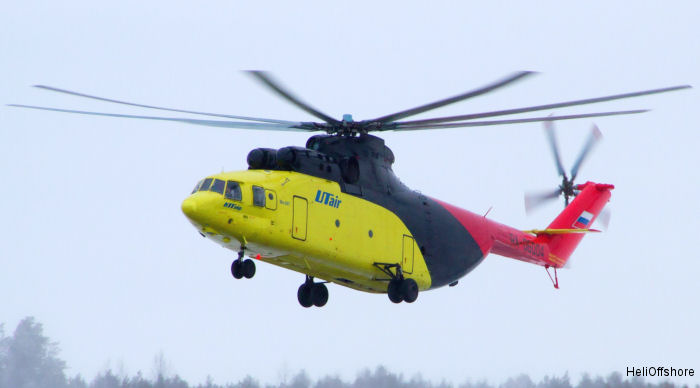 HeliOffshore, September 19, 2016 - London, UK – HeliOffshore, the offshore helicopter industry's safety-focused organisation, today confirmed its 100th member.

Chief Executive Officer Gretchen Haskins described how the industry's collaboration is enhancing safety, worldwide.

"We are delighted to announce that major Russian helicopter operator UTair‑Helicopter Services has joined as our 100th member," said Mrs. Haskins.

"With the commitment of senior leaders across the industry, and the might of 100 members, we are working beyond competitive boundaries to enhance safety. HeliOffshore members are aligned behind one strategy and, together, we are delivering more for safety than any one organisation could achieve alone," she said.

UTair-Helicopter Services is based in Russia and operates more than 320 helicopters on four continents. Chief Executive Officer Andrey Ilmenskiy said that the company was delighted to mark the association's 100-member milestone.

"We look forward to a fruitful collaboration with the global offshore helicopter community; one that is determined to continuously improve safety," said Mr. Ilmenskiy.

"As an operator with an almost 50-year history, UTair-Helicopter Services intends to provide a useful input by sharing our safety knowledge. At the same time, our participation will allow us to raise the quality of service for our customers to an even higher level," he said.

Launched by five helicopter operators in October 2014, HeliOffshore is bringing together experience, knowledge, and data from helicopter operators, manufacturers, global and regional safety organisations, the oil and gas industry, supply chain organisations, and experts in aviation safety, training, engineering, and technology.

The association is also working with national and regional regulators and relevant trade organisations to align safety strategies so that the offshore helicopter industry can enhance safety at the frontline, worldwide.

"We are improving the reliability and resilience of systems, increasing operational effectiveness, and ensuring that the right safety enablers are in place," said Mrs Haskins. "By enhancing the technology, training, and information-sharing across our industry, we improve safety for all those who travel offshore."

Such global collaboration has led to helicopter manufacturers publishing flight-crew operations manuals, a best practice guide for health and usage monitoring systems (HUMS), and an eye-tracking research programme to enhance performance of crews.

About HeliOffshore: HeliOffshore is dedicated to enhancing offshore helicopter safety around the world. HeliOffshore was founded by five leading helicopter services operators, and membership is open to any enterprise with a stake in offshore flight – and a determination to make it ever safer.

HeliOffshore

UTair Aviation