V-280 Advancing for FLRAA Requirement


Following historic development and flight test program the Bell V-280 Valor team focuses on the US Army Future Long-Range Assault Aircraft (FLRAA) competition

* Bell and Team Valor demonstrated the technical and operational advantages of the V-280 Valor demonstrator and are applying data-driven optimizations to deliver a reliable and sustainable long-range assault weapon system for the imminent program of record competition



Bell, June 26, 2021 - Fort Worth, Texas - Bell Textron Inc., a Textron Inc company is advancing Bell's flight-proven V-280 Valor program to meet requirements for the Future Long-Range Assault Aircraft (FLRAA) program of record.

The competition is expected to begin with the Army releasing a Request for Proposals this summer. The optimized design for a fleet of next-generation tiltrotors builds on the exemplary flight-test results and programmatic execution during the Joint Multi-Role Technology Demonstrator (JMR TD) program and Competitive Demonstration and Risk Reduction (CD&RR) efforts.

Bell and Team Valor are transitioning focus to the critical next phase of the competition supporting Army Modernization. The V-280 Valor marked the completion of its three-year flight-test program with a series of demonstrations to highlight its revolutionary performance during more than 214 hours of flight. The V-280 completed all planned Key Performance Parameters including low-speed agility, long-range cruise, 305 knot high-speed flights, and rapid mission systems integration during this thorough test period. Five Army Experimental Test Pilots have flown the V-280 over 15 sorties.

Additionally, Bell hosted "Soldier Touchpoint" events enabling critical feedback from pilots, mechanics, and infantry squads for the Army program office to inform their requirements. This feedback provided critical data that decreased risk and rapidly advanced the maturation of technology for a FLRAA weapons system to meet warfighters Joint All-Domain Operational requirements.

"The FLRAA challenge presented by the U.S. Army was unattainable using helicopter configurations. They have been clear about the need to modernize and field transformational capabilities. We assessed several vertical lift technologies and determined the tiltrotor to be the only solution to the agility, range, and speed requirements of a Long-Range Assault Aircraft that can meet the cost, timeline, and risk profile required for a successful acquisition program.

Bell and our Team Valor teammates could not be more proud of the V-280's record of performance in close collaboration with the U.S. Army throughout the JMR TD and CD&RR to date," said Keith Flail, executive vice president, Advanced Vertical Lift Systems at Bell. "Our team is committed to providing the Army the highest performance and flight-proven option to move into the FLRAA program of record."


Modular Open Systems Approach

In addition to flight-testing, Bell and Team Valor delivered extensive data explaining how the program will deliver an affordable program by developing a weapons system built with efficiency in mind. The V-280 incorporates a Modular Open Systems Approach and relies on simplified and inherently reliable designs to increase lifecycle affordability and sustainment using a holistic view of digital models, processing and analysis to improve operations and maintenance.

"We have come a long way since we started our journey eight years ago. We made commitments, we safely executed our program on time, and we validated our performance claims and the accuracy of our digital models through flight demonstrations. Ultimately, the Army doesn't send warfighters into battle riding in the back of digital models and so we thought it was important to bring that physical proof," said Ryan Ehinger, vice president and program director, FLRAA at Bell.

"This next-generation aircraft technology provides a proven foundation, the 'truck', for the employment of our open architecture digital backbone to provide maximum flexibility for the Army to sustain their mission systems in a way that makes sense for them. It also empowers them to ensure their long-term interoperability in future Joint All-Domain Operations."

As the FLRAA competition moves towards a program of record, Bell will continue CD&RR Phase II efforts to provide initial preliminary designs for major subsystems and the conceptual weapons system, based on data-proven performance that ensures transformational capabilities will be delivered in line with the Army's schedule.

To see updates on the V-280 Valor and learn more on the capabilities, please visit the Bell website, and follow us on YouTube, LinkedIn, Twitter, Facebook, and Instagram.

* Effort sponsored by the U.S. Government under Other Transaction number W9124P-19-9-0001 between AMTC and the Government and related AMTC Project Agreement 19-08-006 with Bell Textron Inc. The U.S. Government is authorized to reproduce and distribute reprints for Governmental purposes notwithstanding any copyright notation thereon. The views and conclusions contained herein are those of the authors and should not be interpreted as necessarily representing the official policies or endorsements, either expressed or implied, of the U.S. Government.

About Bell: Thinking above and beyond is what we do. For more than 85 years, we've been reimagining the experience of flight – and where it can take us. We are pioneers. We were the first to break the sound barrier and to certify a commercial helicopter. We were a part of NASA's first lunar mission and brought advanced tiltrotor systems to market. Today, we're defining the future of advanced air mobility. Headquartered in Fort Worth, Texas – as a wholly-owned subsidiary of Textron Inc., – we have strategic locations around the globe. And with nearly one quarter of our workforce having served, helping our military achieve their missions is a passion of ours. Above all, our breakthrough innovations deliver exceptional experiences to our customers. Efficiently. Reliably. And always, with safety at the forefront.

About Textron inc: Textron Inc. (NYSE: TXT) is a multi-industry company that leverages its global network of aircraft, defense, industrial and finance businesses to provide customers with innovative solutions and services. Textron is known around the world for its powerful brands such as Bell, Cessna, Beechcraft, Hawker, Jacobsen, Kautex, Lycoming, E-Z-GO, Arctic Cat, Textron Systems, and TRU Simulation + Training. For more information, visit: www.textron.com.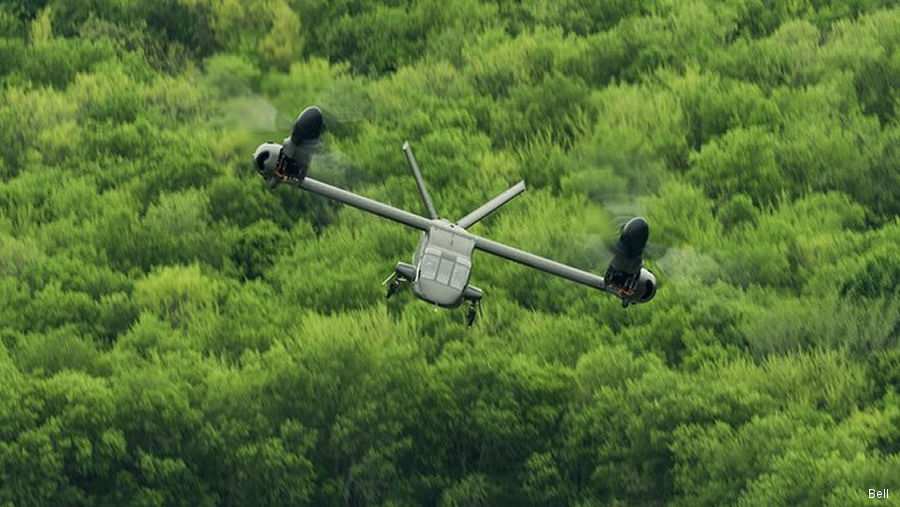 This article is listed in :
Programs: FLRAA
Bell V-280 Valor