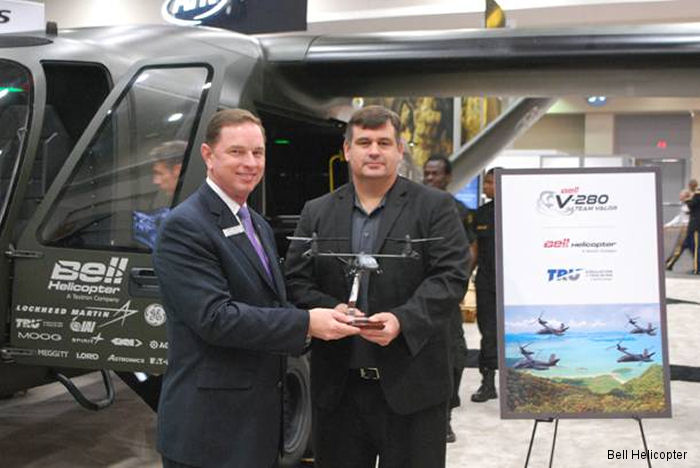 Bell Helicopter, October 14, 2014 - Fort Worth, Texas - Bell Helicopter, a Textron Inc. company, announces today that Textron sister company, TRU Simulation + Training, will provide a high fidelity Flight Training Device (FTD) and Interactive Multi Media Instruction (IMI) virtual Maintenance Trainer for the Bell V-280 Valor.

"We are pleased TRU Simulation + Training is joining our growing team of aerospace leaders and will be a part of the team investing in our next generation tiltrotor, the Bell V-280," said President and CEO John Garrison. "Team Valor continues to align interests and resources on this clean sheet design, together delivering technology and innovation that reduces cost, weight and complexity in order to make the next generation of tiltrotor technology more affordable."

With a focus on pilot proficiency and safety, initially TRU Simulation + Training will produce a high fidelity Flight Training Device that gives pilots a true sense of the aircraft's cockpit design and next generation tiltrotor operation. This FTD will familiarize the legacy helicopter pilot community with the transformational acceleration, deceleration, low speed agility, and high speed maneuverability of a next generation V-280 tiltrotor that will fundamentally change the way they employ, fly and fight in future conflicts. Additionally, the company will provide a virtual Maintenance Trainer that uses multi-media courseware to help flight mechanics learn the Bell V-280 Valor system faster and more quickly become proficient in serving the end customer's maintenance needs.

"This cooperative agreement is a win-win for the customer and for our two companies," states Jim Takats, TRU Simulation + Training president and CEO. "Producing a Flight Training Device for the Bell V-280 Valor gives us an opportunity to demonstrate our advanced technology capabilities. For Bell and the customer, this collaboration will allow for a future vertical lift solution with both the aircraft maneuverability and pilot readiness that tomorrow's fighting force needs."

The transformational features of Bell Helicopter's next generation tiltrotor technologies within the Joint Multi Role Technology Demonstrator (JMR-TD) program reduce risk and inform the requirements for the Department of Defense's Future Vertical Lift (FVL) effort.

The clean-sheet design of the Bell V-280 Valor creates the capability to fly twice the range at double the speed of any existing helicopter. The V-280's tiltrotor technology leverages vertical takeoff and landing (VTOL) capability into a strategic and tactical advantage for battle planning. Bell Helicopter leads the industry with combat-proven tiltrotor technology, and has invested in the future of military rotorcraft with its next generation tiltrotor.

Bell Helicopter has led the formation of Team Valor, a group of leading aerospace companies bringing the best engineering resources and industrial capabilities to meet the Department of Defense's needs. Team Valor includes Lockheed Martin, AGC, Astronics, Eaton, General Electric, GKN Aerospace, IAI Aerospace, Lord, Meggitt, Moog, Spirit AeroSystems, and now TRU Simulation + Training.

Bell V-280 Valor
BTA

Bell Helicopter Training Academy
Bell Helicopter