CHC Aberdeen Sponsorship for Veterans With Dogs


CHC Aberdeen will train fully accredited assistance dogs to help former and serving armed forces personnel with post-traumatic stress disorder (PTSD) and other mental health conditions

CHC, April 06, 2018 - CHC has announced that its Aberdeen operation has selected Veterans With Dogs as its charity of the year.

The organization is dedicated to training fully accredited assistance dogs to help former and serving armed forces personnel with post-traumatic stress disorder (PTSD), and other mental health conditions lead more independent lives.

The four-legged friends help mitigate the debilitating effects of mental health difficulties. A veteran suffering from a condition like PTSD often becomes extremely isolated – and their life can be dominated by conditions such as anxiety and depression. Introducing a specially trained assistance dog has been shown to have hugely beneficial outcomes.

Veterans With Dogs North of Scotland trainer Shanta Cariese explained: "The dogs are trained to respond to anxieties displayed by the veterans in everyday life. They can help their humans deal with potentially challenging environments. The dogs can also indicate and interrupt signs of anxiety, panic attacks and nightmares. They also help the veterans regain emotional control by employing cognitive behavioural skills, engaging risk reduction behaviours and help reduce the debilitating effects associated with PTSD."

The charity also runs a cutting-edge PALS programme – which allows veterans to work with their own dogs, which are trained to become assistance dogs, with support from the charity's team of animal behaviourists, experienced assistance dog trainers and mental health professionals. Veterans learn and practise skills that are useful in everyday life, using modern professional dog training techniques with a proven scientific basis. Both dog and veteran qualify together as a partnership, by training to set minimum standards that they must meet or exceed. Partnerships are assessed on an ongoing basis throughout the lifetime of the partnership.

CHC Aberdeen has raised £7,000 through its sponsorship of the Energy Ball in December 2017 and will now sponsor a puppy for the program. The charity will also benefit from other fundraising activities throughout the coming year, including the upcoming Aberdeen Runway Run in June.

Veteran Carl and his dog Shadow recently visited CHC's operations base in Aberdeen with Shanta to meet CHC's Europe, Middle East and Africa Regional Director Mark Abbey.

"I have been working with Carl and Shadow for the past 18 months and they really are a strong team," said Cariese. "Shadow helps Carl deal with the pressures of everyday life and the training we have undertaken has allowed Shadow to understand Carl's needs."

"We have been hugely impressed with the work being done by Veterans With Dogs to support those armed forces personnel who have given so much for their country," said Abbey. "CHC has a number of ex-services personnel among its workforce and there are strong links between the military and commercial sectors, particularly our flying and engineering teams. It is incredible to see the bond that is formed between the Carl and Shadow. As part of our relationship with Veterans With Dogs we will be sponsoring a puppy and we will also be supporting them via the Aberdeen Airport Runway Run, which takes place on June 30."

CHC is proud to extend its ongoing support of military veterans. From 2014-2017, CHC supported Wings for Warriors, a UK charity which gives wounded, injured or sick servicemen and women a future worth fighting for, by training them as professional pilots. During this time, CHC purchased a training helicopter and both engineers and pilots provided ongoing assistance to the charity's trainees.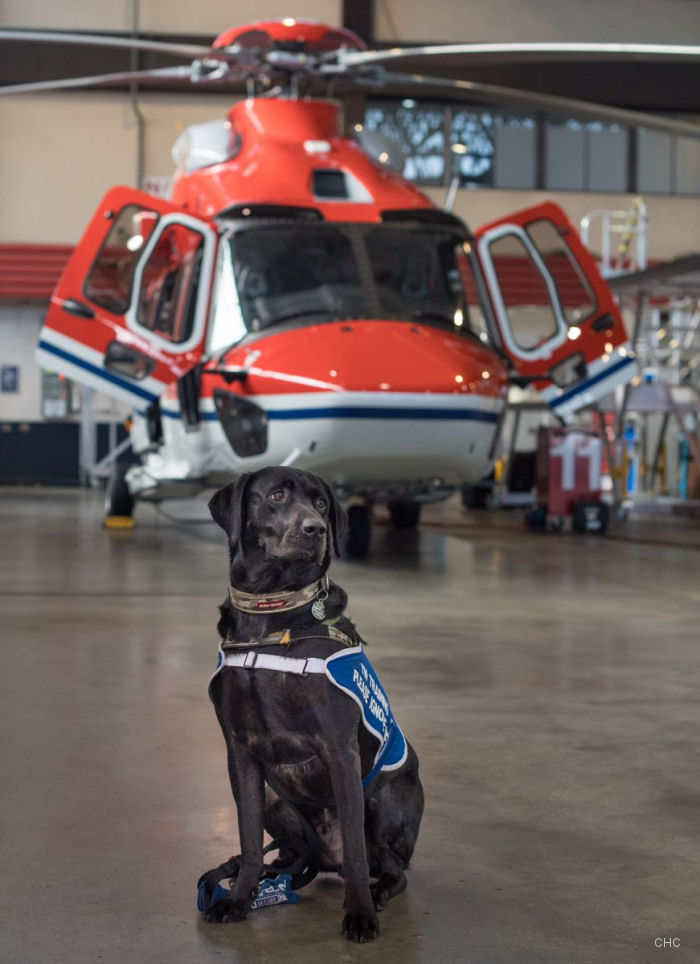 This article is listed in :


CHC (Aberdeen)
CHC Scotia

Aberdeen / Dyce