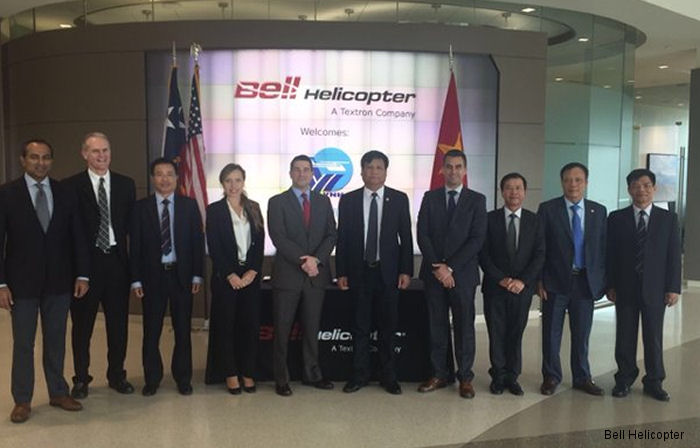 Bell Helicopter, March 08, 2016 - Fort Worth, Texas – Bell Helicopter, a Textron Inc. company, announced today it has signed an agreement with Vietnam Helicopter Corporation (VNH) to pursue growing opportunities in the Vietnamese market.

VNH leadership joined Bell Helicopter at the company's global headquarters in Fort Worth, Texas, USA, to sign the agreement:

"We were delighted to host the Vietnam Helicopter Corporation leadership at our global headquarters and showcase our facility and state-of-the-art technology," said Patrick Moulay, Bell Helicopter's vice president of Global Sales and Marketing. "VNH is a prestigious operator, and we look forward to strengthening our cooperation in the region and furthering our support of current and future customers."

As a leading helicopter service provider in South East Asia with more than 30 years of experience, VNH provides a range of services including offshore transport, tourism, charter flights, Missing in Action program, search and rescue, as well as maintenance and training for pilots and technicians.

"This is a key relationship for Bell Helicopter," added Moulay. "VNH will provide a wealth of customer knowledge and technical experience in Vietnam to our future customers and this signing reinforces our commitment to Vietnam and increases our level of support throughout the region."

The representatives from VNH were given a tour through the Bell Helicopter's global headquarters as well as an exclusive viewing of the Bell 525 Relentless Flight Test Vehicle at the company's XworXfacility in Arlington, Texas.

About Bell Helicopter: Bell Helicopter, a wholly owned subsidiary of Textron Inc. (NYSE: TXT), is an industry-leading producer of commercial and military, manned and unmanned vertical-lift aircraft and the pioneer of the revolutionary tiltrotor aircraft. Globally recognized for world-class customer service, innovation and superior quality, Bell's global workforce serves customers flying Bell aircraft in more than 120 countries.

Vietnam Helicopter Company

Bell Helicopter