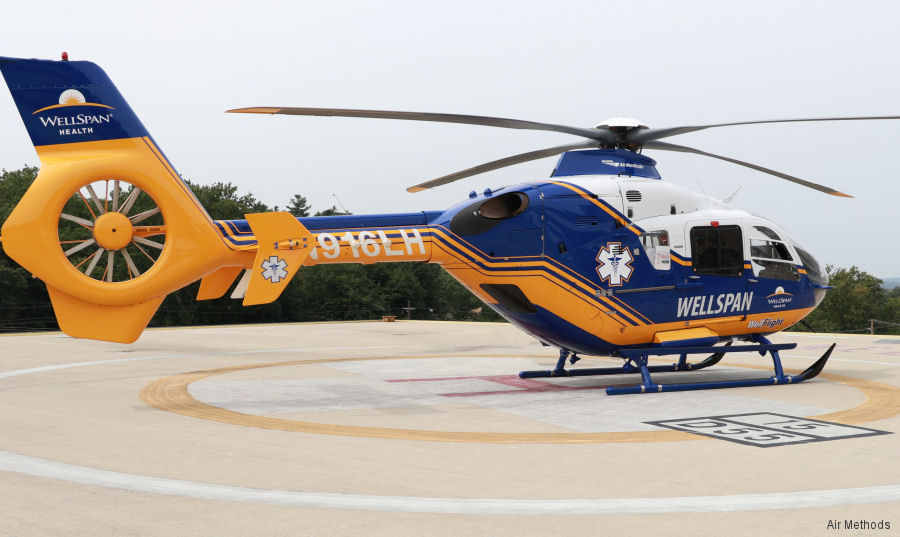 Air Methods, March 29, 2023
- Lancaster, PA – Expanding critical care coverage, Air Methods—in partnership with WellSpan Health—opened a new base in Lancaster County to better serve residents and visitors of central and southern Pennsylvania.
The new base, WellFlight Lancaster, is the second joint venture base between Air Methods and WellSpan Health.
With an already established and successful base in Gettysburg, PA, the new WellFlight Lancaster base increases comprehensive coverage in the area by adding another air medical service to the skies to positively impact patient outcomes.
The new base location aims to improve access to emergency services centered on transporting sick patients as well as scene and trauma-related calls within surrounding communities assisting fire and emergency medical service (EMS) teams, quickening response times.
"We're thrilled to continue the partnership with Air Methods and expand critical care access to the communities we serve," said Dr. Michael Seim, senior vice president and chief quality officer, WellSpan Health. "By continuing the partnership, we are ensuring the best recovery possible for our patients."
WellFlight's parent company, Air Methods, continual investment, and commitment to safety over the years has been critical in providing pre-hospital, lifesaving care. With a safety-centered service, Air Methods is in the top one percent of all part 135 operators (nearly 2,000 operators in the industry) to receive a letter of acknowledgment from the Federal Aviation Administration (FAA) accepting Air Methods' Safety Management System (SMS).
"Air Methods and the WellFlight program are dedicated to continuous improvement of its safety operations and culture, believing that our SMS program is essential to continuous improvement and unparalleled protections for our crews and patients," said Air Methods Account Executive Ron Brown. "We evaluate communication, operations, clinical quality, and patient safety outcomes for every flight to improve and elevate our services."
WellFlight Lancaster is a community-based service—operating 24/7/365 service coverage for the region—and is equipped with the most reliable and safe aircraft in the industry, transporting patients to their destinations quickly. The aircraft coupled with the highly skilled crew, which consists of a pilot, nurse, and paramedic, makes all the difference in saving a life.
The team achieved the Commission on Accreditation of Medical Transport Systems (CAMTS) and carries the critical tools, medications, and supplies needed to provide lifesaving interventions at the scene and ICU-level care while in flight.
On every flight, the team carries blood and blood products (i.e. blood plasma), positively increasing patient outcomes through pre-hospital care. Additionally, the clinical team is extensively trained to provide, when needed, advanced airway intervention; cardiac (including balloon pump/Impella) and blood flow monitoring; ventilator management; medication administration and titration – monitoring potential side effects; and other advanced specialty surgical procedures.
"Where seconds make all the difference in saving a life, the highly trained air medical team is capable of lifesaving interventions at the scene and in flight," said Brown. "We are incredibly versatile in what we do, fundamentally serving as a flying intensive care unit."
The WellFlight team is co-housed with Stevens Fire Company, a volunteer-driven and non-profit community organization. The alliance with the fire department provides for improved and comprehensive care between partners.
"By training with our local Fire and EMS partners and being part of the community, we're producing more efficient and effective response times—arriving faster on the scene and following accurate and safe procedures—leading to seamless patient care," said Brown. "We couldn't be prouder of the partnership we are building with our Fire and EMS teams."
About Air Methods : Air Methods is the nation's leading air medical service, delivering lifesaving care to more than 100,000 people every year. With over 40 years of air medical experience, Air Methods is the preferred partner for hospitals and one of the largest community-based providers of air medical services.
United Rotorcraft
is the Company's products division specializing in the design and manufacture of aeromedical and aerospace technology. Air Methods' fleet of owned, leased, or maintained aircraft features more than 450 helicopters and fixed-wing aircraft.

List of Air Medical Ambulance Services
WellFlight

WellSpan Health
State of Pennsylvania
EC135 in

Air Methods