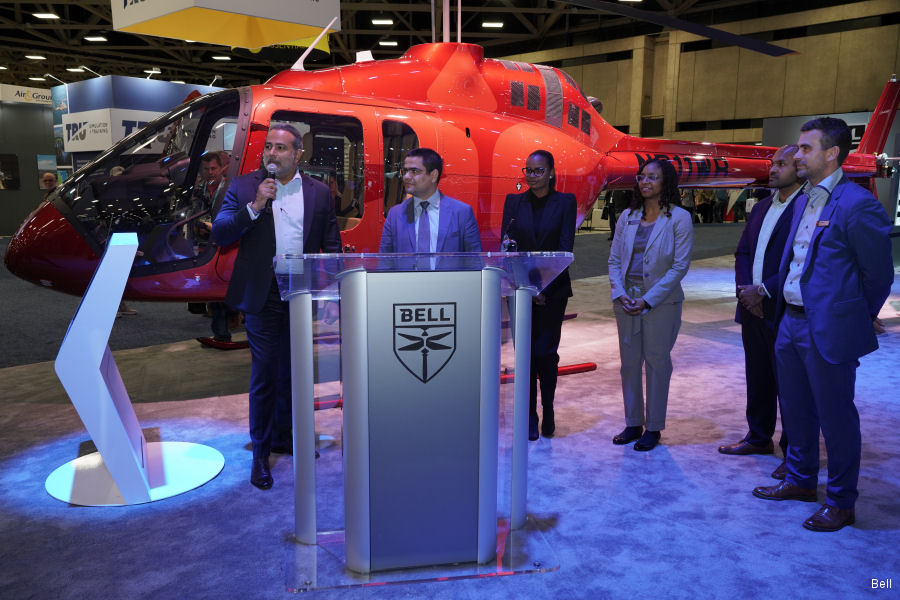 Bell, March 15, 2022 - Dallas, TX - Bell Textron Inc., a Textron Inc company, announced a signed purchase agreement for a Bell 505 to BESTFLY, an Angolan aviation company, with the intent to purchase a second 505 within six months.

This is the first 505 sale in Angola and West Africa.

The first aircraft is expected to be delivered October 2022 and the second aircraft expected delivery date is October 2023. The aircraft will be used for corporate transportation around the country.

"Nuno and Alcinda Pereira embody the very spirit for which the Bell 505 was created, enabling extraordinary people to do extraordinary things," said Sameer Rehman, managing director, Africa and the Middle East.

"Their pioneering efforts in West Africa will be further enhanced with the entry of the first Bell 505 in that region. We are privileged to work alongside the BESTFLY team as we begin our journey with the Bell 505 in West Africa."

BESTFLY, which was established in 2009, offers cost-effective services and using private, chartered aircraft.

"We are proud to accept the delivery of the first Bell 505 in Angola and West Africa," said Nuno Pereira, managing director, BESTFLY. "The Bell 505 will be a great addition to our fleet of aircraft. It exceeded our expectations with the large, customizable cabin and fully integrated high-tech features. With the purchase of this aircraft, we are demonstrating our commitment toward enhancing the aviation industry in Angola. The Bell 505 will be utilized in developing the corporate transportation and sightseeing markets in the region."

Bell has almost 30 505s operating in Africa and the Middle East, and more than 300 operating worldwide. With a speed of 125 knots (232 kilometers per hour) and a useful load of 1,500 pounds (680 kilograms), the Bell 505 is designed to be safe and easy to fly while providing unmatched value to the operator.

About Bell: Thinking above and beyond is what we do. For more than 85 years, we've been reimagining the experience of flight – and where it can take us. We are pioneers. We were the first to break the sound barrier and to certify a commercial helicopter. We were a part of NASA's first lunar mission and brought advanced tiltrotor systems to market. Today, we're defining the future of advanced air mobility.

Headquartered in Fort Worth, Texas – as a wholly-owned subsidiary of Textron Inc., – we have strategic locations around the globe. And with nearly one quarter of our workforce having served, helping our military achieve their missions is a passion of ours. Above all, our breakthrough innovations deliver exceptional experiences to our customers. Efficiently. Reliably. And always, with safety at the forefront.

About Textron: Textron Inc. is a multi-industry company that leverages its global network of aircraft, defense, industrial and finance businesses to provide customers with innovative solutions and services. Textron is known around the world for its powerful brands such as Bell, Cessna, Beechcraft, Jacobsen, Kautex, Lycoming, E-Z-GO, Arctic Cat, and Textron Systems.
505 Jet Ranger X in
Bestfly