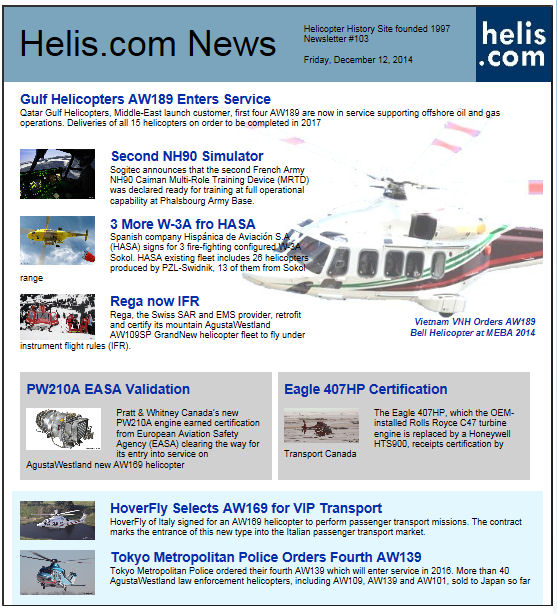 Helicopter News December 12, 2014 by Helis.com
Newsletter #103

Gulf Helicopters AW189 Enters Service Qatar Gulf Helicopters, Middle-East launch customer, first four AW189 are now in service supporting offshore oil and gas operations. Deliveries of all 15 helicopters on order to be completed in 2017

PW210A Engine Wins Key EASA Validation Pratt & Whitney Canada's new PW210A engine earned certification from European Aviation Safety Agency (EASA) clearing the way for its entry into service on AgustaWestland new AW169 helicopter

Eagle 407HP Receives Transport Canada Certification The Eagle 407HP, which the OEM-installed Rolls Royce C47 turbine engine is replaced by a Honeywell HTS900, receipts certification by Transport Canada

Vietnam VNH Orders AW189 For Offshore Operations Vietnam Helicopter Corporation (VNH) signed for two AW189 to perform medium/long range offshore transport operations marking the entrance of AgustaWestland into the Vietnam's helicopter market

Bell Helicopter at Middle East MEBA 2014 Bell Helicopter announced sale of a Bell 429 and 2 Bell 505 at the Middle East Business Aviation (MEBA) exposition, Middle East largest business aviation event, held at Dubai World Central, UAE

HoverFly Selects AW169 for VIP Transport HoverFly of Italy signed for an AW169 helicopter to perform passenger transport missions. The contract marks the entrance of this new type into the Italian passenger transport market.

Tokyo Metropolitan Police Orders Fourth AW139 Tokyo Metropolitan Police ordered their fourth AW139 which will enter service in 2016. More than 40 AgustaWestland law enforcement helicopters, including AW109, AW139 and AW101, sold to Japan so far

French Army Second NH90 Simulator Ready Sogitec announces that the second French Army NH90 Caiman Multi-Role Training Device (MRTD) was declared ready for training at full operational capability at Phalsbourg Army Base.

HASA Signs for 3 Firefighting W-3A Sokol Spanish company Hispánica de Aviación S.A (HASA) signs for 3 fire-fighting configured W-3A Sokol. HASA existing fleet includes 26 helicopters produced by PZL-Swidnik, 13 of them from Sokol range

Rega Swiss Ambulance AW109SP now with IFR Rega, the Swiss SAR and EMS provider, retrofit and certify its mountain AgustaWestland AW109SP GrandNew helicopter fleet to fly under instrument flight rules (IFR).