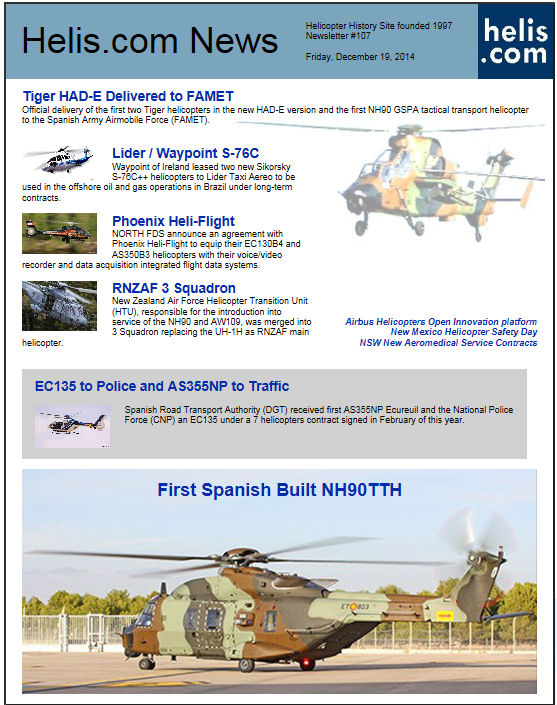 Helicopter News December 19, 2014 by Helis.com
Newsletter #107

One NH90 and Two HAD-E Tiger Delivered to FAMET Official delivery of the first two Tiger helicopters in the new HAD-E version and the first NH90 GSPA tactical transport helicopter to the Spanish Army Airmobile Force (FAMET).

NHI Delivers The First Spanish Built NH90TTH NHI delivered to the Spanish Army the first NH90H Tactical Transport Helicopter built in Spain. Airbus Helicopters España at Albacete will supply a total of 22 helicopters through to 2019.

Spain: New EC135 to Police and AS355NP to DGT Spanish Road Transport Authority (DGT) received first AS355NP Ecureuil and the National Police Force (CNP) an EC135 under a 7 helicopters contract signed in February of this year.

Airbus Helicopters Launched Open Innovation platform Airbus Helicopters Open Innovation project goal is to invite, select and support valid initiatives and technologies that can be applied in the short term to helicopter products and their environment.

New Mexico Army NG hosts Helicopter Safety Day The 4th New Mexico Helicopter Safety Day, hosted at the Santa Fe Aviation Readiness Center, gave civilian, law enforcement and military entities safety information with the aspects of rotary flight.

NSW New Aeromedical Service Contracts Australian New South Wales Gov signs new Aeromedical contracts. From 2017 the Southern region will be run by Toll Group and the Northern region by a joint bid by Westpac Rescue and Westpac Life Saver

Lider Taxi Aereo Leased S-76C++ from Waypoint Waypoint of Ireland leased two new Sikorsky S-76C++ helicopters to Lider Taxi Aereo to be used in the offshore oil and gas operations in Brazil under long-term contracts.

Phoenix Heli-Flight with North FDM Technology NORTH FDS announce an agreement with Phoenix Heli-Flight to equip their EC130B4 and AS350B3 helicopters with their voice/video recorder and data acquisition integrated flight data systems.

RNZAF Helicopter Fleet Integrated in 3 Squadron New Zealand Air Force Helicopter Transition Unit (HTU), responsible for the introduction into service of the NH90 and AW109, was merged into 3 Squadron replacing the UH-1H as RNZAF main helicopter.