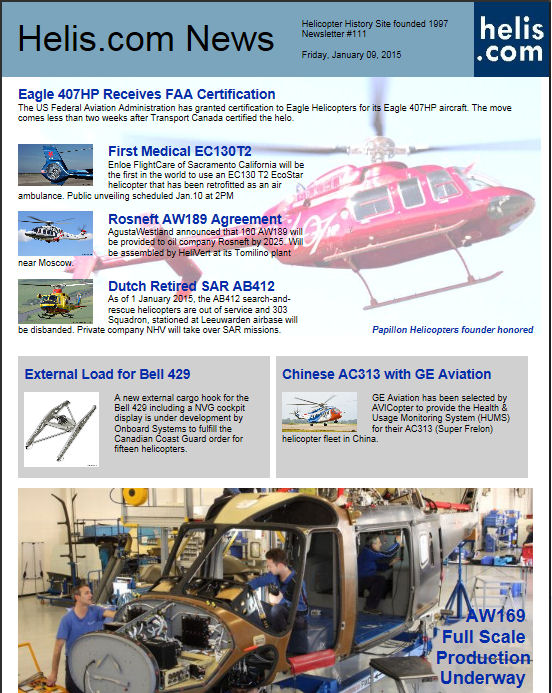 Helicopter News January 09, 2015 by Helis.com
Newsletter #111

Eagle 407HP Receives FAA Certification The US Federal Aviation Administration has granted certification to Eagle Helicopters for its Eagle 407HP aircraft. The move comes less than two weeks after Transport Canada certified the helo.

AW169 Full Scale Production Underway AgustaWestland new generation AW169 4.5-tonne class helicopter has entered full scale production at Vergiate facility in Italy. A second final assembly line is planned at Philadelphia USA.

External Load Weighing System for the Bell 429 A new external cargo hook for the Bell 429 including a NVG cockpit display is under development by Onboard Systems to fulfill the Canadian Coast Guard order for fifteen helicopters.

Chinese AC313 with GE Aviation HUMS System GE Aviation has been selected by AVICopter to provide the Health & Usage Monitoring System (HUMS) for their AC313 (Super Frelon) helicopter fleet in China.

Living Legends award to Papillon Helicopters Founder Mr. Elling Halvorson, founder of Papillon Helicopters, will receive the "Vertical Flight Hall of Fame Award," presented by Bell Helicopter at the 12th Annual "Living Legends Of Aviation" Awards

Enloe FlightCare to unveil EC130T2 EcoStar Enloe FlightCare of Sacramento California will be the first in the world to use an EC130 T2 EcoStar helicopter that has been retrofitted as an air ambulance. Public unveiling scheduled Jan.10 at 2PM

AgustaWestland Confirms Rosneft AW189 Agreement AgustaWestland announced that 160 AW189 will be provided to oil company Rosneft by 2025. Will be assembled by HeliVert at its Tomilino plant near Moscow.

Netherlands Retired AB412 SAR Helicopters As of 1 January 2015, the AB412 search-and-rescue helicopters are out of service and 303 Squadron, stationed at Leeuwarden airbase will be disbanded. Private company NHV will take over SAR missions.