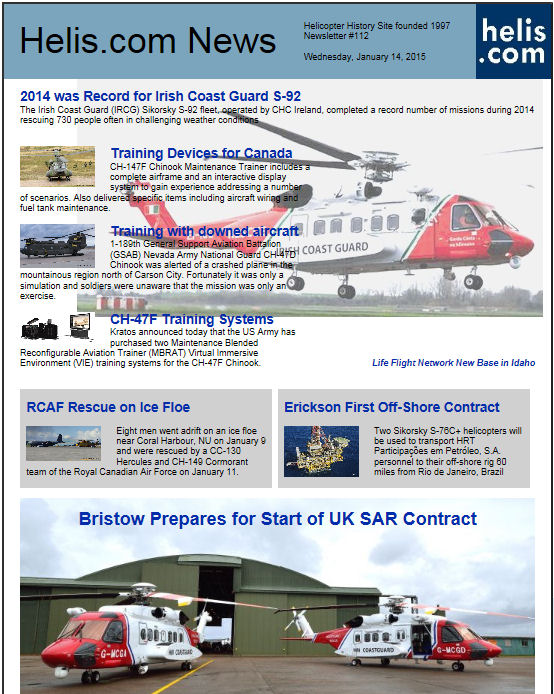 Helicopter News January 14, 2015 by Helis.com
Newsletter #112

Irish Coast Guard S-92 Record Number of Missions The Irish Coast Guard (IRCG) Sikorsky S-92 fleet, operated by CHC Ireland, completed a record number of missions during 2014 rescuing 730 people often in challenging weather conditions

Bristow Prepares for Start of UK SAR Contract UK SAR marks milestones as expansion proceeds on schedule and under the Gap SAR contract with the HM Coast Guard, both the Sumburgh and Stornoway bases completed a busy first year of service.

RCAF Rescues Eight Men Adrift on Ice Floe Eight men went adrift on an ice floe near Coral Harbour, NU on January 9 and were rescued by a CC-130 Hercules and CH-149 Cormorant team of the Royal Canadian Air Force on January 11.

Erickson First Off-Shore Oil and Gas Transport Contract Two Sikorsky S-76C+ helicopters will be used to transport HRT Participações em Petróleo, S.A. personnel to their off-shore rig 60 miles from Rio de Janeiro, Brazil

Life Flight Network New Base at Burley Idaho Life Flight Network (LFN) announced it will be opening a base at Burley Municipal Airport (KBYI) Idaho on March 20th, 2015

Chinook Maintenance Training Devices to Canada CH-147F Chinook Maintenance Trainer includes a complete airframe and an interactive display system to gain experience addressing a number of scenarios. Also delivered specific items including aircraft wiring and fuel tank maintenance.

Nevada Guard Trains with Simulated downed aircraft 1-189th General Support Aviation Battalion (GSAB) Nevada Army National Guard CH-47D Chinook was alerted of a crashed plane in the mountainous region north of Carson City. Fortunately it was only a simulation and soldiers were unaware that the mission was only an exercise.

US Army CH-47F Chinook Avionics Training Systems Kratos announced today that the US Army has purchased two Maintenance Blended Reconfigurable Aviation Trainer (MBRAT) Virtual Immersive Environment (VIE) training systems for the CH-47F Chinook.