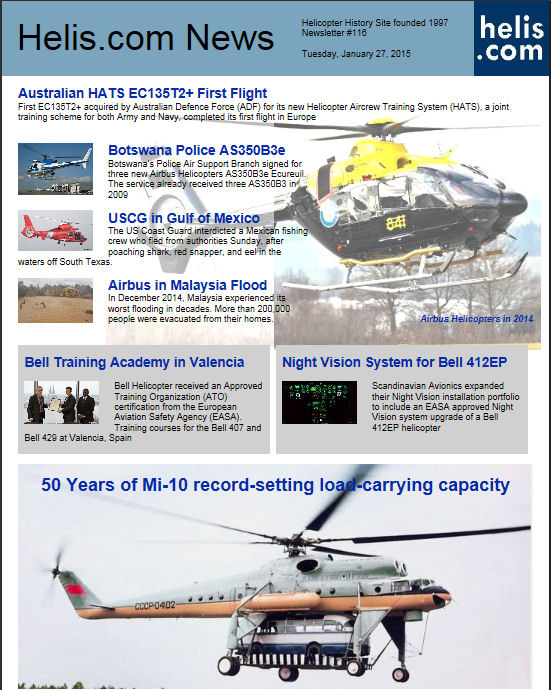 Helicopter News January 27, 2015 by Helis.com
Newsletter #116

Australian HATS EC135T2+ First Flight First EC135T2+ acquired by Australian Defence Force (ADF) for its new Helicopter Aircrew Training System (HATS), a joint training scheme for both Army and Navy, completed its first flight in Europe

50 Years of Mi-10 record-setting load-carrying capacity In 1965, the Mi-10, piloted by test pilot Raphael Kaprelyan, lifted a weight of 15 tons to a height of 2840 meters, as well as a 5-ton load to 7151 meters.

Bell 407 and Bell 429 Training Academy in Valencia Bell Helicopter received an Approved Training Organization (ATO) certification from the European Aviation Safety Agency (EASA). Training courses for the Bell 407 and Bell 429 at Valencia, Spain

Aero Dynamix Night Vision System for Bell 412EP Scandinavian Avionics expanded their Night Vision installation portfolio to include an EASA approved Night Vision system upgrade of a Bell 412EP helicopter

Airbus Helicopters in 2014 During 2014, Airbus Helicopters delivered 471 rotorcraft from the company's civil, parapublic and military product lines and booked 402 net orders.

Botswana Police Orders Three AS350B3e Botswana's Police Air Support Branch signed for three new Airbus Helicopters AS350B3e Ecureuil. The service already received three AS350B3 in 2009

US Coast Guard More Interdicts in Gulf of Mexico The US Coast Guard interdicted a Mexican fishing crew who fled from authorities Sunday, after poaching shark, red snapper, and eel in the waters off South Texas.

Airbus Helicopters in December Malaysia Flood In December 2014, Malaysia experienced its worst flooding in decades. More than 200,000 people were evacuated from their homes.