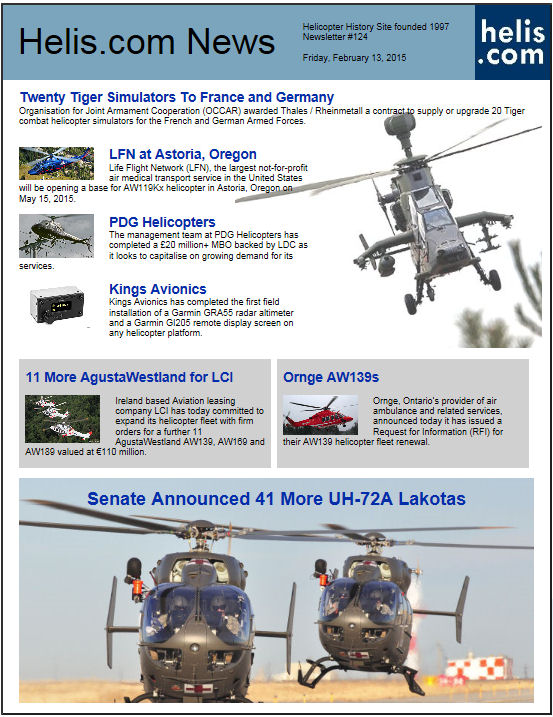 Helicopter News February 13, 2015 by Helis.com
Newsletter #124

Twenty Tiger Simulators To France and Germany Organisation for Joint Armament Cooperation (OCCAR) awarded Thales / Rheinmetall a contract to supply or upgrade 20 Tiger combat helicopter simulators for the French and German Armed Forces.

Senate Announced 41 More UH-72A Lakotas US Army approved $220.5 M contract for production of 41 UH-72A Lakota helicopters in Columbus according to US Senator Thad Cochran (R-Miss) chairman of the Senate Defense Appropriations Subcommittee

LCI Orders Additional 11 AgustaWestland Helicopters Ireland based Aviation leasing company LCI has today committed to expand its helicopter fleet with firm orders for a further 11 AgustaWestland AW139, AW169 and AW189 valued at €110 million.

Ornge Analyzing to Keep or Not AW139s Ornge, Ontario's provider of air ambulance and related services, announced today it has issued a Request for Information (RFI) for their AW139 helicopter fleet renewal.

Life Flight Network New Base at Astoria Oregon Life Flight Network (LFN), the largest not-for-profit air medical transport service in the United States will be opening a base for AW119Kx helicopter in Astoria, Oregon on May 15, 2015.

PDG Helicopters Gets £20+ Million from LDC The management team at PDG Helicopters has completed a £20 million+ MBO backed by LDC as it looks to capitalise on growing demand for its services.

First Installation of GRA55/GI205 by Kings Avionics Kings Avionics has completed the first field installation of a Garmin GRA55 radar altimeter and a Garmin GI205 remote display screen on any helicopter platform.