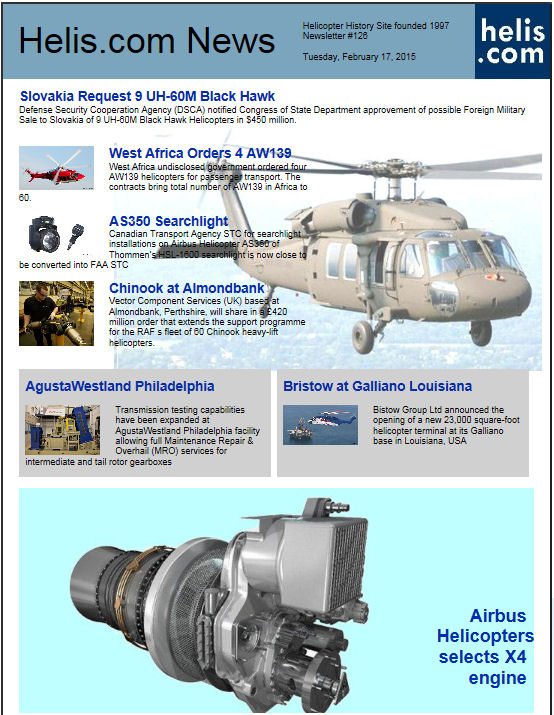 Helicopter News February 17, 2015 by Helis.com
Newsletter #126

Croatian Police Orders One AW139 Croatian Police orders one AW139, the first in the country. Co-financed with EU Internal Security Funds and equipped with FLIR and rescue hoist will be used mainly in border and maritime patrol.

Slovakia Request 9 UH-60M Black Hawk Defense Security Cooperation Agency (DSCA) notified Congress of State Department approvement of possible Foreign Military Sale to Slovakia of 9 UH-60M Black Hawk Helicopters in $450 million.

Airbus Helicopters selects X4 engine Airbus Helicopters choose the Turbomeca Arrano over the Pratt & Whitney Canada PW210E to power the new X4 helicopter which will be showcased at Heli-Expo 2015 in Orlando, Florida

AgustaWestland Philadelphia Facility Expanded Transmission testing capabilities have been expanded at AgustaWestland Philadelphia facility allowing full Maintenance Repair & Overhail (MRO) services for intermediate and tail rotor gearboxes

New Bristow Helicopter Terminal at Galliano Louisiana Bistow Group Ltd announced the opening of a new 23,000 square-foot helicopter terminal at its Galliano base in Louisiana, USA

West Africa Undisclosed Country Orders 4 AW139 West Africa undisclosed government ordered four AW139 helicopters for passenger transport. The contracts bring total number of AW139 in Africa to 60.

Revue Thommen Searchlight on AS350 Canadian Transport Agency STC for searchlight installations on Airbus Helicopter AS350 of Thommen's HSL-1600 searchlight is now close to be converted into FAA STC

Chinook Contract to Vector Aerospace Almondbank Vector Component Services (UK) based at Almondbank, Perthshire, will share in a £420 million order that extends the support programme for the RAF s fleet of 60 Chinook heavy-lift helicopters.