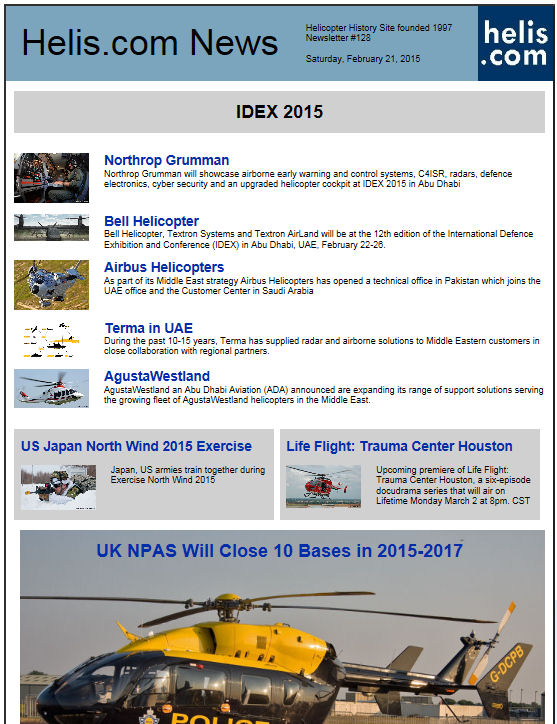 Helicopter News February 21, 2015 by Helis.com
Newsletter #128 IDEX 2015

UK NPAS Will Close 10 Bases in 2015-2017 UK National Police Air Service confirmed plans to move to a 15-base model. 10 current bases will be closed between 2015 and 2017

US Japan North Wind 2015 Exercise Japan, US armies train together during Exercise North Wind 2015

Life Flight: Trauma Center Houston Upcoming premiere of Life Flight: Trauma Center Houston, a six-episode docudrama series that will air on Lifetime Monday March 2 at 8pm. CST

Northrop Grumman at IDEX 2015 Northrop Grumman will showcase airborne early warning and control systems, C4ISR, radars, defence electronics, cyber security and an upgraded helicopter cockpit at IDEX 2015 in Abu Dhabi

Bell Helicopter at IDEX 2015 Bell Helicopter, Textron Systems and Textron AirLand will be at the 12th edition of the International Defence Exhibition and Conference (IDEX) in Abu Dhabi, UAE, February 22-26.

Airbus Helicopters at IDEX 2015 As part of its Middle East strategy Airbus Helicopters has opened a technical office in Pakistan which joins the UAE office and the Customer Center in Saudi Arabia

Terma establishes permanent presence in UAE During the past 10-15 years, Terma has supplied radar and airborne solutions to Middle Eastern customers in close collaboration with regional partners.

AgustaWestland Services in the Middle East AgustaWestland an Abu Dhabi Aviation (ADA) announced are expanding its range of support solutions serving the growing fleet of AgustaWestland helicopters in the Middle East.