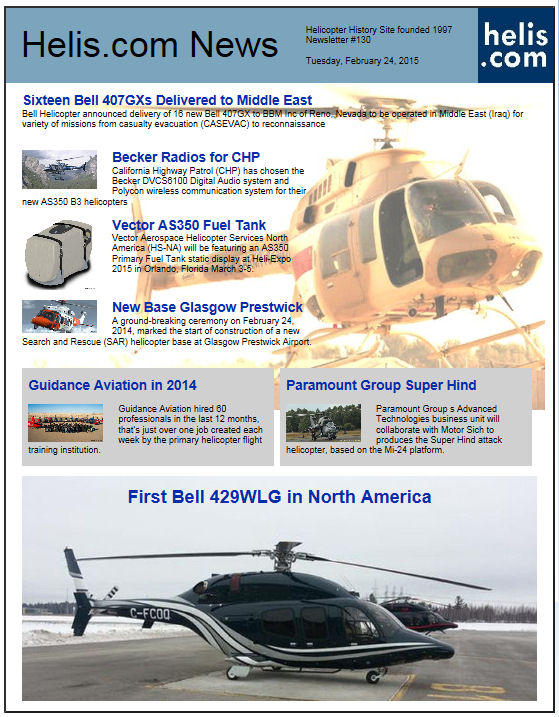 Helicopter News February 24, 2015 by Helis.com
Newsletter #130

Sixteen Bell 407GXs Delivered to Middle East Bell Helicopter announced delivery of 16 new Bell 407GX to BBM Inc of Reno, Nevada to be operated in Middle East (Iraq) for variety of missions from casualty evacuation (CASEVAC) to reconnaissance

First Bell 429WLG in North America Bell Helicopter announced it has made the first delivery of the Bell 429 Wheeled Landing Gear (WLG) in North America to professional NASCAR driver and founder and CEO of SunEnergy1, Kenny Habul.

Guidance Aviation Helicopter Pilot School in 2014 Guidance Aviation hired 60 professionals in the last 12 months, that's just over one job created each week by the primary helicopter flight training institution.

Paramount Group Super Hind Programme Paramount Group s Advanced Technologies business unit will collaborate with Motor Sich to produces the Super Hind attack helicopter, based on the Mi-24 platform.

Becker Radios for California Highway Patrol AS350B3 California Highway Patrol (CHP) has chosen the Becker DVCS6100 Digital Audio system and Polycon wireless communication system for their new AS350 B3 helicopters

Vector Aerospace AS350 Primary Fuel Tank Vector Aerospace Helicopter Services North America (HS-NA) will be featuring an AS350 Primary Fuel Tank static display at Heli-Expo 2015 in Orlando, Florida March 3-5.

Work Starts on New SAR Base Glasgow Prestwick A ground-breaking ceremony on February 24, 2014, marked the start of construction of a new Search and Rescue (SAR) helicopter base at Glasgow Prestwick Airport.