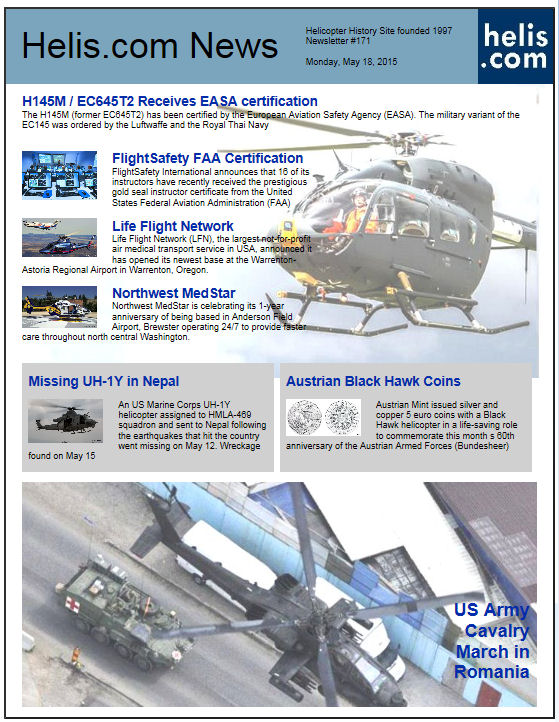 Helicopter News May 18, 2015 by Helis.com
Newsletter #171

H145M / EC645T2 Receives EASA certification The H145M (former EC645T2) has been certified by the European Aviation Safety Agency (EASA). The military variant of the EC145 was ordered by the Luftwaffe and the Royal Thai Navy

US Army Cavalry March in Romania 4-3 Assault Helicopter Battalion supports 2nd Squadron, 2nd Cavalry Regt on the Cavalry March from MK airbase to Cincu Romania transporting troopers and their equipment to a new training facility

Missing UH-1Y in Nepal An US Marine Corps UH-1Y helicopter assigned to HMLA-469 squadron and sent to Nepal following the earthquakes that hit the country went missing on May 12. Wreckage found on May 15

Austrian Black Hawk Commemorative Coins Austrian Mint issued silver and copper 5 euro coins with a Black Hawk helicopter in a life-saving role to commemorate this month s 60th anniversary of the Austrian Armed Forces (Bundesheer)

FlightSafety Receive FAA Gold Seal Certification FlightSafety International announces that 16 of its instructors have recently received the prestigious gold seal instructor certificate from the United States Federal Aviation Administration (FAA)

Life Flight Network Begins Operations at Astoria Oregon Life Flight Network (LFN), the largest not-for-profit air medical transport service in USA, announced it has opened its newest base at the Warrenton-Astoria Regional Airport in Warrenton, Oregon.

Northwest MedStar First Year in Brewster Washington Northwest MedStar is celebrating its 1-year anniversary of being based in Anderson Field Airport, Brewster operating 24/7 to provide faster care throughout north central Washington.