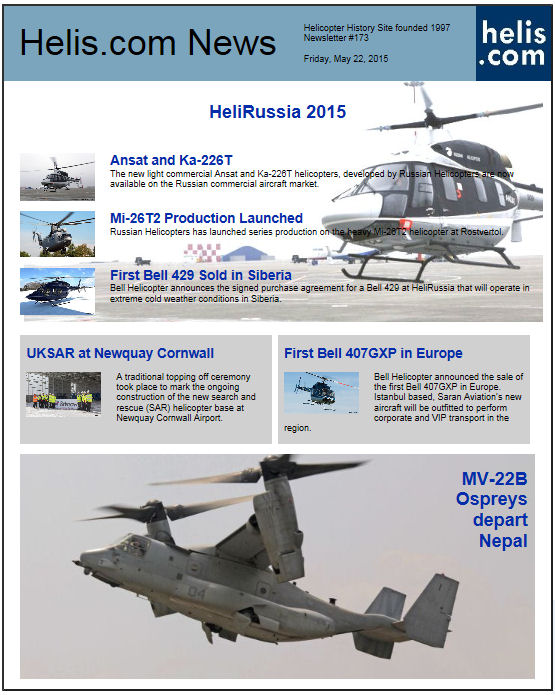 Helicopter News May 22, 2015 by Helis.com
Newsletter #173 HeliRussia 2015

MV-22B Ospreys depart Nepal US Marine Corps MV-22B Ospreys from VMM-262 deployed in support of Operation Sahayogi Haat departed Nepal, May 21. They arrived May 4 and flew approximately 115 hours over the course of 75 missions.

UK SAR Base at Newquay Cornwall Airport A traditional topping off ceremony took place to mark the ongoing construction of the new search and rescue (SAR) helicopter base at Newquay Cornwall Airport.

First Bell 407GXP in Europe Goes to Turkey Bell Helicopter announced the sale of the first Bell 407GXP in Europe. Istanbul based, Saran Aviation's new aircraft will be outfitted to perform corporate and VIP transport in the region.

Ansat and Ka-226T Enters Russian Commercial Market The new light commercial Ansat and Ka-226T helicopters, developed by Russian Helicopters are now available on the Russian commercial aircraft market.

Mi-26T2 Serial Production Launched Russian Helicopters has launched series production on the heavy Mi-26T2 helicopter at Rostvertol.

First Bell 429 Sold in Siberia Bell Helicopter announces the signed purchase agreement for a Bell 429 at HeliRussia that will operate in extreme cold weather conditions in Siberia.