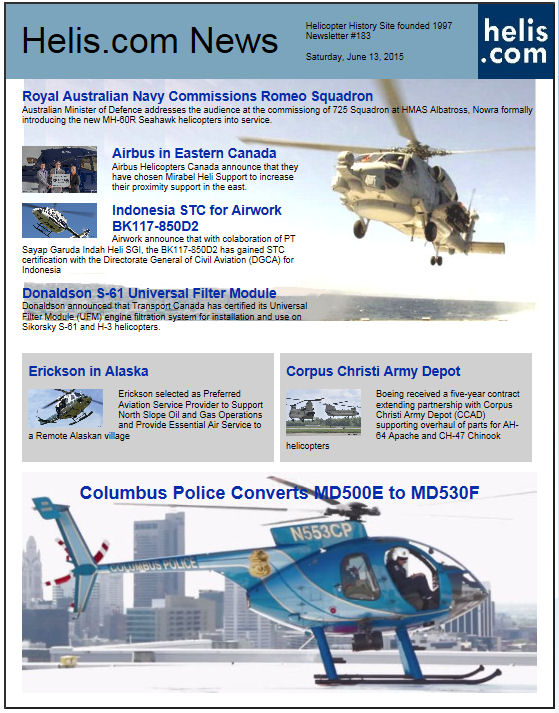 Helicopter News June 13, 2015 by Helis.com
Newsletter #183

Royal Australian Navy Commissions Romeo Squadron Australian Minister of Defence addresses the audience at the commissiong of 725 Squadron at HMAS Albatross, Nowra formally introducing the new MH-60R Seahawk helicopters into service.

Columbus Police Converts MD500E to MD530F The Columbus Police Department will upgrade four of its MD500E helicopters to new MD530Fs through an FAA-approved factory recertification program at MD Helicopters production facility in Mesa, Arizona

Erickson Secures Two Contracts in Alaska Erickson selected as Preferred Aviation Service Provider to Support North Slope Oil and Gas Operations and Provide Essential Air Service to a Remote Alaskan village

Boeing Extends Corpus Christi Army Depot Partnership Boeing received a five-year contract extending partnership with Corpus Christi Army Depot (CCAD) supporting overhaul of parts for AH-64 Apache and CH-47 Chinook helicopters

Airbus Helicopters Canada Eastern Maintenance Center Airbus Helicopters Canada announce that they have chosen Mirabel Heli Support to increase their proximity support in the east.

Indonesia STC for Airwork BK117-850D2 Airwork announce that with colaboration of PT Sayap Garuda Indah Heli SGI, the BK117-850D2 has gained STC certification with the Directorate General of Civil Aviation (DGCA) for Indonesia

Donaldson S-61 Universal Filter Module Donaldson announced that Transport Canada has certified its Universal Filter Module (UFM) engine filtration system for installation and use on Sikorsky S-61 and H-3 helicopters.