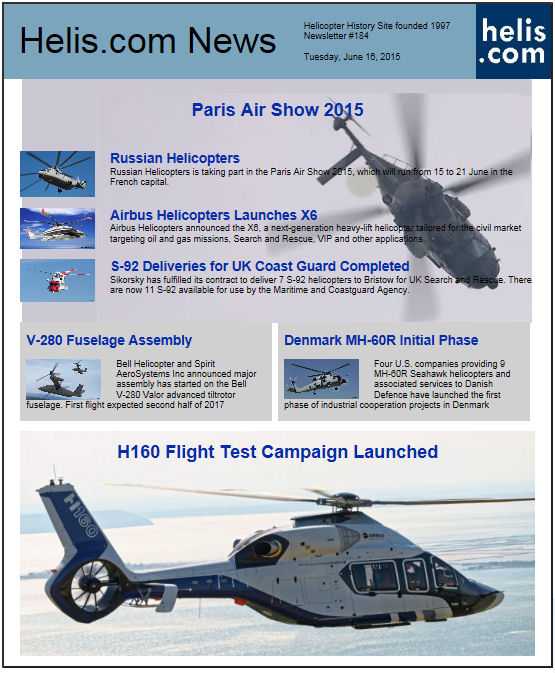 Helicopter News June 16, 2015 by Helis.com
Newsletter #184 Paris Air Show 2015

H160 Flight Test Campaign Launched The Airbus Helicopters H160 helicopter flew for the first time in Marignane on 13 June shortly after beginning its ground runs end of May.

Major Assembly Starts on V-280 Fuselage Bell Helicopter and Spirit AeroSystems Inc announced major assembly has started on the Bell V-280 Valor advanced tiltrotor fuselage. First flight expected second half of 2017

Denmark Approves Initial Phase for MH-60R Four U.S. companies providing 9 MH-60R Seahawk helicopters and associated services to Danish Defence have launched the first phase of industrial cooperation projects in Denmark

Russian Helicopters at Paris Air Show 2015 Russian Helicopters is taking part in the Paris Air Show 2015, which will run from 15 to 21 June in the French capital.

Airbus Helicopters Launches X6 Concept Phase Airbus Helicopters announced the X6, a next-generation heavy-lift helicopter tailored for the civil market targeting oil and gas missions, Search and Rescue, VIP and other applications.

S-92 Deliveries for UK Coast Guard Completed Sikorsky has fulfilled its contract to deliver 7 S-92 helicopters to Bristow for UK Search and Rescue. There are now 11 S-92 available for use by the Maritime and Coastguard Agency.