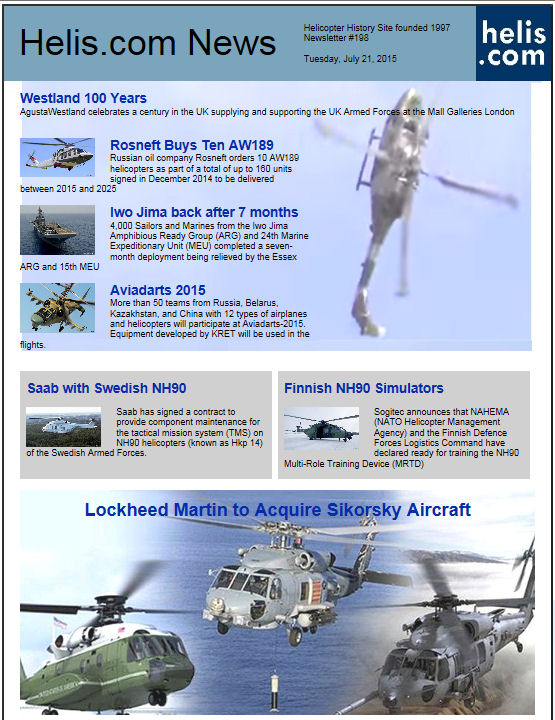 Helicopter News July 21, 2015 by Helis.com
Newsletter #198

Westland 100 Years Supporting The UK Armed Forces AgustaWestland celebrates a century in the UK supplying and supporting the UK Armed Forces at the Mall Galleries London

Lockheed Martin to Acquire Sikorsky Aircraft Lockheed Martin has entered into a definitive agreement to acquire Sikorsky Aircraft, a world leader in military and commercial rotary-wing aircraft, for $9.0 billion.

Saab Signs Swedish NH90 Maintenance Contract Saab has signed a contract to provide component maintenance for the tactical mission system (TMS) on NH90 helicopters (known as Hkp 14) of the Swedish Armed Forces.

Finnish NH90 Sogitec Training Device Ready Sogitec announces that NAHEMA (NATO Helicopter Management Agency) and the Finnish Defence Forces Logistics Command have declared ready for training the NH90 Multi-Role Training Device (MRTD)

Rosneft Buys Ten AW189 Russian oil company Rosneft orders 10 AW189 helicopters as part of a total of up to 160 units signed in December 2014 to be delivered between 2015 and 2025

USS Iwo Jima and 24th MEU Returns After 7 Months 4,000 Sailors and Marines from the Iwo Jima Amphibious Ready Group (ARG) and 24th Marine Expeditionary Unit (MEU) completed a seven-month deployment being relieved by the Essex ARG and 15th MEU

KRET Equipment at Aviadarts 2015 competition More than 50 teams from Russia, Belarus, Kazakhstan, and China with 12 types of airplanes and helicopters will participate at Aviadarts-2015. Equipment developed by KRET will be used in the flights.