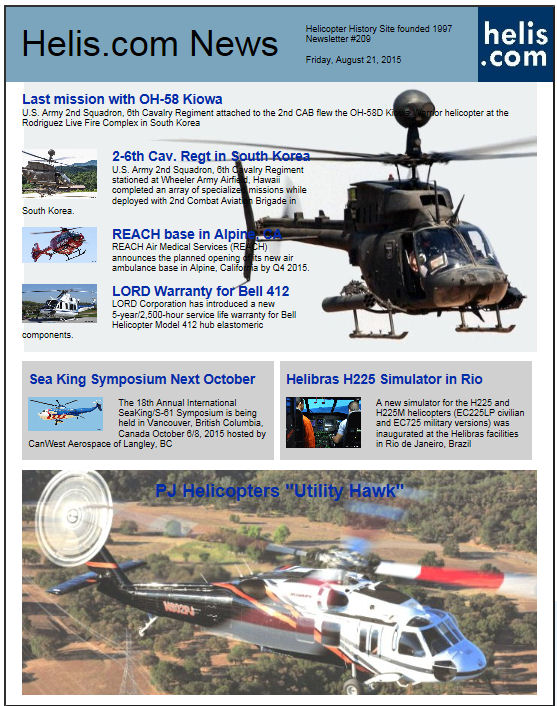 Helicopter News August 21, 2015 by Helis.com
Newsletter #209

Last mission with OH-58 Kiowa U.S. Army 2nd Squadron, 6th Cavalry Regiment attached to the 2nd CAB flew the OH-58D Kiowa Warrior helicopter at the Rodriguez Live Fire Complex in South Korea

PJ Helicopters "Utility Hawk" PJ Helicopters (PJH) received Type Certificate that approves its Sikorsky UH-60 Black Hawk fleet, ex US Army and now dubbed "Utility Hawk", for firefighting, heavy-lift, and construction activities.

Sea King Symposium in Vancouver Next October The 18th Annual International SeaKing/S-61 Symposium is being held in Vancouver, British Columbia, Canada October 6/8, 2015 hosted by CanWest Aerospace of Langley, BC

Helibras H225 Simulator Inaugurated in Rio A new simulator for the H225 and H225M helicopters (EC225LP civilian and EC725 military versions) was inaugurated at the Helibras facilities in Rio de Janeiro, Brazil

2-6th Cav. Regt in South Korea U.S. Army 2nd Squadron, 6th Cavalry Regiment stationed at Wheeler Army Airfield, Hawaii completed an array of specialized missions while deployed with 2nd Combat Aviation Brigade in South Korea.

New Reach Air Medical Base in Alpine, CA REACH Air Medical Services (REACH) announces the planned opening of its new air ambulance base in Alpine, California by Q4 2015.

LORD Warranty for Bell 412 Operators LORD Corporation has introduced a new 5-year/2,500-hour service life warranty for Bell Helicopter Model 412 hub elastomeric components.