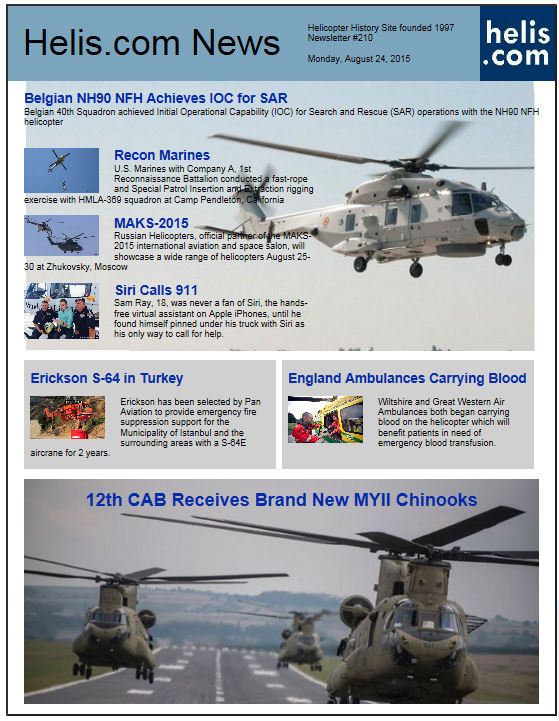 Helicopter News August 24, 2015 by Helis.com
Newsletter #210

Belgian NH90 NFH Achieves IOC for SAR Belgian 40th Squadron achieved Initial Operational Capability (IOC) for Search and Rescue (SAR) operations with the NH90 NFH helicopter

12th CAB Receives Brand New MYII Chinooks The first 5 of 9 CH-47F MYII Chinook helicopters arrived at Katterbach Army Airfield for the U.S. Army 12th Combat Aviation Brigade. The Multiyear II is the latest variant of the CH-47F

Erickson Secures Turkish Firefighting Contract Erickson has been selected by Pan Aviation to provide emergency fire suppression support for the Municipality of Istanbul and the surrounding areas with a S-64E aircrane for 2 years.

South West England Ambulances Began Carrying Blood Wiltshire and Great Western Air Ambulances both began carrying blood on the helicopter which will benefit patients in need of emergency blood transfusion.

Recon Marines Hang With HMLA-369 U.S. Marines with Company A, 1st Reconnaissance Battalion conducted a fast-rope and Special Patrol Insertion and Extraction rigging exercise with HMLA-369 squadron at Camp Pendleton, California

Russian Helicopters at MAKS-2015 Russian Helicopters, official partner of the MAKS-2015 international aviation and space salon, will showcase a wide range of helicopters August 25-30 at Zhukovsky, Moscow

Siri Calls 911 for Trapped Victim Sam Ray, 18, was never a fan of Siri, the hands-free virtual assistant on Apple iPhones, until he found himself pinned under his truck with Siri as his only way to call for help.