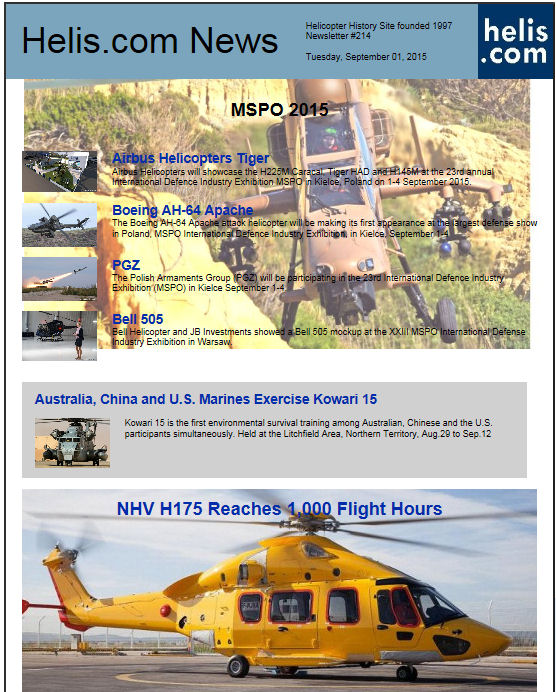 Helicopter News September 01, 2015 by Helis.com
Newsletter #214 MSPO 2015

NHV H175 Reaches 1,000 Flight Hours Launch operator NHV from Belgium accumulated 1000 flight hours with two H175s introduced into service last December. They are used to transport crews and supplies to off-shore oil and gas platforms.

Australia, China and U.S. Marines Exercise Kowari 15 Kowari 15 is the first environmental survival training among Australian, Chinese and the U.S. participants simultaneously. Held at the Litchfield Area, Northern Territory, Aug.29 to Sep.12

Airbus Helicopters at Poland MSPO 2015 Airbus Helicopters will showcase the H225M Caracal, Tiger HAD and H145M at the 23rd annual International Defence Industry Exhibition MSPO in Kielce, Poland on 1-4 September 2015.

AH-64 Apache at Poland MSPO 2015 The Boeing AH-64 Apache attack helicopter will be making its first appearance at the largest defense show in Poland, MSPO International Defence Industry Exhibition, in Kielce, September 1-4

PGZ at MSPO 2015 The Polish Armaments Group (PGZ) will be participating in the 23rd International Defence Industry Exhibition (MSPO) in Kielce September 1-4.

Bell 505 at Poland MSPO 2015 Bell Helicopter and JB Investments showed a Bell 505 mockup at the XXIII MSPO International Defense Industry Exhibition in Warsaw.