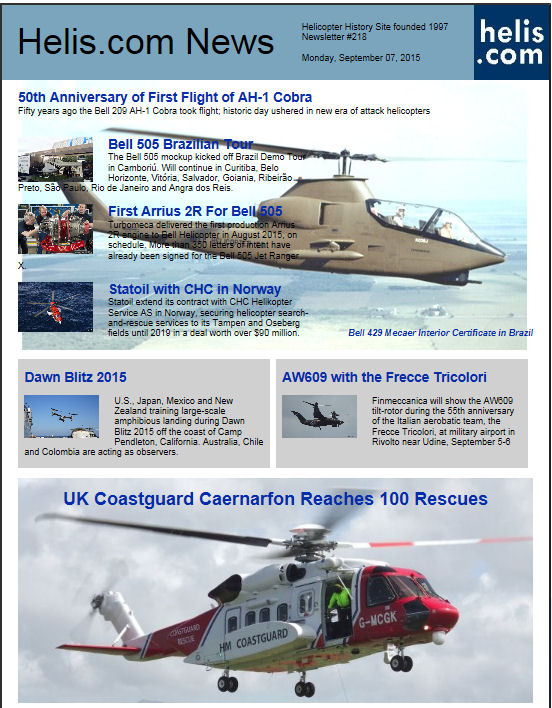 Helicopter News September 07, 2015 by Helis.com
Newsletter #218

50th Anniversary of First Flight of AH-1 Cobra Fifty years ago the Bell 209 AH-1 Cobra took flight; historic day ushered in new era of attack helicopters

UK Coastguard Caernarfon Reaches 100 Rescues UK Coastguard Caernarfon base, the third Bristow civilian search and rescue base to go live, has completed 100 taskings in just two months with their two Sikorsky S-92 helicopters.

Dawn Blitz 2015 at Camp Pendleton U.S., Japan, Mexico and New Zealand training large-scale amphibious landing during Dawn Blitz 2015 off the coast of Camp Pendleton, California. Australia, Chile and Colombia are acting as observers.

AW609 at the Frecce Tricolori 55th Anniversary Finmeccanica will show the AW609 tilt-rotor during the 55th anniversary of the Italian aerobatic team, the Frecce Tricolori, at military airport in Rivolto near Udine, September 5-6

Bell 429 Mecaer Interior Certificate in Brazil Mecaer Aviation Group (MAG) announced it has successfully validated their VVIP Bell 429 helicopter interior with the Agencia Nacional De Aviacao Civil (ANAC).

Bell 505 Demo Tour Visiting Ten Brazilian Cities The Bell 505 mockup kicked off Brazil Demo Tour in Camboriú. Will continue in Curitiba, Belo Horizonte, Vitória, Salvador, Goiania, Ribeirão Preto, São Paulo, Rio de Janeiro and Angra dos Reis.

Turbomeca Delivered First Arrius 2R For Bell 505 Turbomeca delivered the first production Arrius 2R engine to Bell Helicopter in August 2015, on schedule. More than 350 letters of intent have already been signed for the Bell 505 Jet Ranger X.

Statoil Extend Contract with CHC in Norway Statoil extend its contract with CHC Helikopter Service AS in Norway, securing helicopter search-and-rescue services to its Tampen and Oseberg fields until 2019 in a deal worth over $90 million.