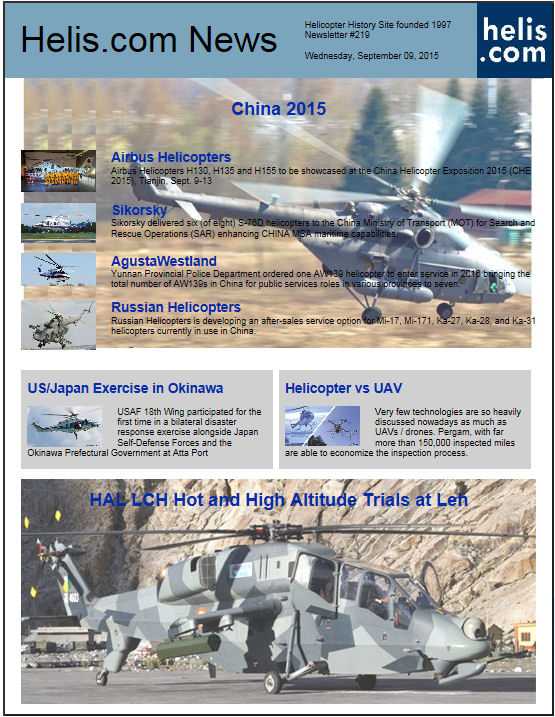 Helicopter News September 09, 2015 by Helis.com
Newsletter #219 China 2015

HAL LCH Hot and High Altitude Trials at Leh As part of the certification process, HAL completes trials of its Light Combat Helicopter (LCH) at Leh and established hover performance and low speed characteristics under extreme weather conditions

US/Japan Disaster Response Exercise in Okinawa USAF 18th Wing participated for the first time in a bilateral disaster response exercise alongside Japan Self-Defense Forces and the Okinawa Prefectural Government at Atta Port

Aerial Power Line Inspection : Helicopter vs UAV Very few technologies are so heavily discussed nowadays as much as UAVs / drones. Pergam, with far more than 150,000 inspected miles are able to economize the inspection process.

Airbus Helicopters at China Helicopter Expo 2015 Airbus Helicopters H130, H135 and H155 to be showcased at the China Helicopter Exposition 2015 (CHE 2015), Tianjin, Sept. 9-13

Sixth S-76D to the China Maritime Safety Administration Sikorsky delivered six (of eight) S-76D helicopters to the China Ministry of Transport (MOT) for Search and Rescue Operations (SAR) enhancing CHINA MSA maritime capabilities.

China Yunnan Provincial Police Orders AW139 Yunnan Provincial Police Department ordered one AW139 helicopter to enter service in 2016 bringing the total number of AW139s in China for public services roles in various provinces to seven.

Russian Helicopters Upgraded Technology for China Russian Helicopters is developing an after-sales service option for Mi-17, Mi-171, Ka-27, Ka-28, and Ka-31 helicopters currently in use in China.