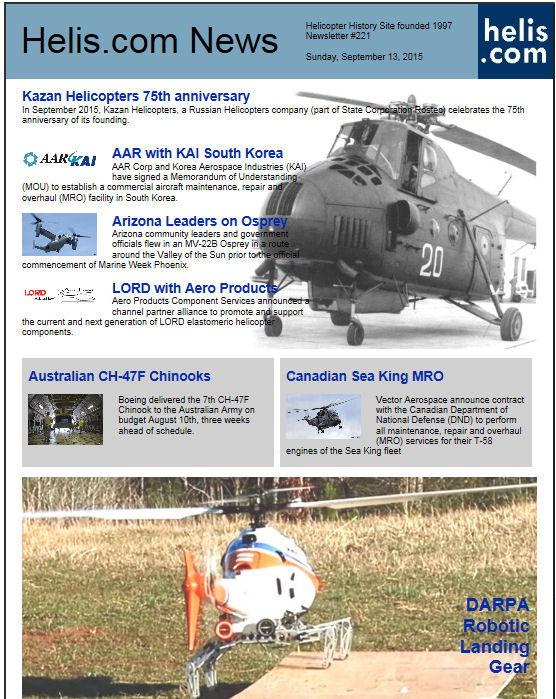 Helicopter News September 13, 2015 by Helis.com
Newsletter #221

Kazan Helicopters 75th anniversary In September 2015, Kazan Helicopters, a Russian Helicopters company (part of State Corporation Rostec) celebrates the 75th anniversary of its founding.

DARPA Robotic Landing Gear Having the ability to land on and take off from angled, irregular and moving surfaces would greatly expand the effectiveness of helicopters across many military and national security missions.

Australian Chinooks on Budget, Ahead of Schedule Boeing delivered the 7th CH-47F Chinook to the Australian Army on budget August 10th, three weeks ahead of schedule.

Vector to Perform Canadian Sea King MRO Engine Vector Aerospace announce contract with the Canadian Department of National Defense (DND) to perform all maintenance, repair and overhaul (MRO) services for their T-58 engines of the Sea King fleet

AAR Signs MOU with KAI South Korea AAR Corp and Korea Aerospace Industries (KAI) have signed a Memorandum of Understanding (MOU) to establish a commercial aircraft maintenance, repair and overhaul (MRO) facility in South Korea.

Arizona Community Leaders on VMM-764 Osprey Arizona community leaders and government officials flew in an MV-22B Osprey in a route around the Valley of the Sun prior to the official commencement of Marine Week Phoenix.

LORD Corp in Partner Alliance with Aero Products Aero Products Component Services announced a channel partner alliance to promote and support the current and next generation of LORD elastomeric helicopter components.