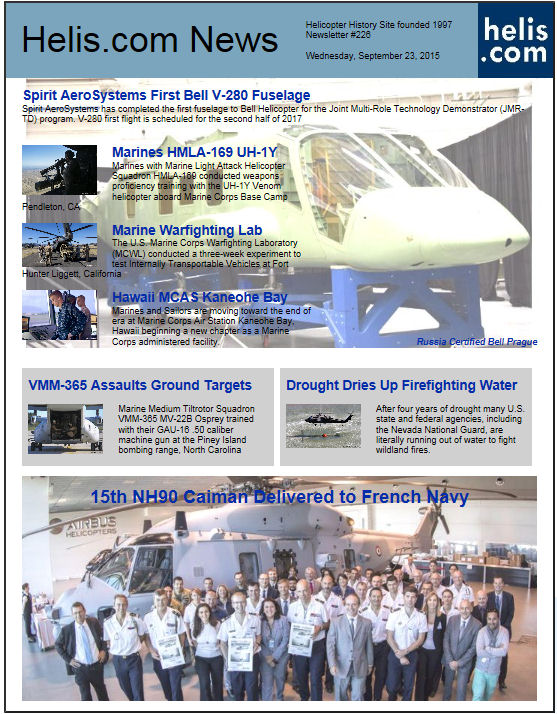 Helicopter News September 23, 2015 by Helis.com
Newsletter #226

Spirit AeroSystems First Bell V-280 Fuselage Spirit AeroSystems has completed the first fuselage to Bell Helicopter for the Joint Multi-Role Technology Demonstrator (JMR-TD) program. V-280 first flight is scheduled for the second half of 2017

15th NH90 Caiman Delivered to French Navy The French Navy took delivery of its 15th (of 27 ordered) NH90 NFH "Caiman Marine" helicopter. As of today, 249 NH90 of all variants have been delivered to 13 countries

VMM-365 Osprey Assaults Ground Targets Marine Medium Tiltrotor Squadron VMM-365 MV-22B Osprey trained with their GAU-16 .50 caliber machine gun at the Piney Island bombing range, North Carolina

Drought Dries Up Water Resources For Firefighting After four years of drought many U.S. state and federal agencies, including the Nevada National Guard, are literally running out of water to fight wildland fires.

Bell Prague receives Russian Civil Certification Bell Helicopter Prague Customization and Delivery Center has received Russian Civil Aviation Authority (CAA) certification to perform maintenance on Russian registered aircraft.

Marines HMLA-169 Vipers Test Their UH-1Y Venom Marines with Marine Light Attack Helicopter Squadron HMLA-169 conducted weapons proficiency training with the UH-1Y Venom helicopter aboard Marine Corps Base Camp Pendleton, CA

Marine Warfighting Lab Tests Vehicles The U.S. Marine Corps Warfighting Laboratory (MCWL) conducted a three-week experiment to test Internally Transportable Vehicles at Fort Hunter Liggett, California

Hawaii MCAS Kaneohe Bay Begins Transition Marines and Sailors are moving toward the end of era at Marine Corps Air Station Kaneohe Bay, Hawaii beginning a new chapter as a Marine Corps administered facility.