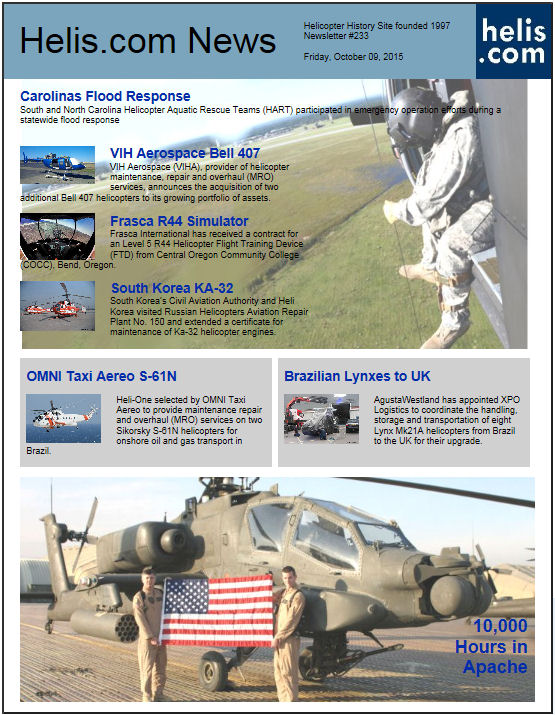 Helicopter News October 09, 2015 by Helis.com
Newsletter #233

Carolinas SC-HART and NC-HART Flood Response South and North Carolina Helicopter Aquatic Rescue Teams (HART) participated in emergency operation efforts during a statewide flood response

Utah Guard aviator First to Reach 10K Hs in Apache A Utah National Guard Army aviator was recognized as the senior Apache aviator in the world achieving more than 10,000 flying hours in the AH-64 attack helicopter.

Two S-61N for OMNI Taxi Aereo Heli-One selected by OMNI Taxi Aereo to provide maintenance repair and overhaul (MRO) services on two Sikorsky S-61N helicopters for onshore oil and gas transport in Brazil.

XPO Logistics To Transport Brazilian Lynxes to UK AgustaWestland has appointed XPO Logistics to coordinate the handling, storage and transportation of eight Lynx Mk21A helicopters from Brazil to the UK for their upgrade.

VIH Aerospace Acquires Two Bell 407 VIH Aerospace (VIHA), provider of helicopter maintenance, repair and overhaul (MRO) services, announces the acquisition of two additional Bell 407 helicopters to its growing portfolio of assets.

Central Oregon CC Orders R44 Frasca Simulator Frasca International has received a contract for an Level 5 R44 Helicopter Flight Training Device (FTD) from Central Oregon Community College (COCC), Bend, Oregon.

Russian Support for South Korea KA-32 Engines South Korea's Civil Aviation Authority and Heli Korea visited Russian Helicopters Aviation Repair Plant No. 150 and extended a certificate for maintenance of Ka-32 helicopter engines.