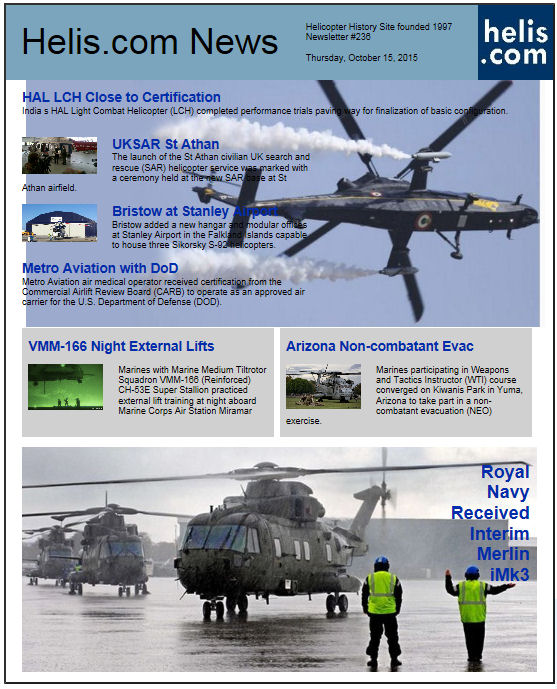 Helicopter News October 15, 2015 by Helis.com
Newsletter #236

HAL LCH Close to Certification India s HAL Light Combat Helicopter (LCH) completed performance trials paving way for finalization of basic configuration.

Royal Navy Received Interim Merlin iMk3 Royal Navy 846 Naval Air Squadron received first of 7 next-generation Merlin iMk3, 'i' for interim, which will carry Royal Marines into battle until reception of the final HC.4 late 2017

VMM-166 Practice Night External Lifts Marines with Marine Medium Tiltrotor Squadron VMM-166 (Reinforced) CH-53E Super Stallion practiced external lift training at night aboard Marine Corps Air Station Miramar

Non-combatant Evacuation Exercise in Arizona Marines participating in Weapons and Tactics Instructor (WTI) course converged on Kiwanis Park in Yuma, Arizona to take part in a non-combatant evacuation (NEO) exercise.

UKSAR St Athan Service Launch Ceremony The launch of the St Athan civilian UK search and rescue (SAR) helicopter service was marked with a ceremony held at the new SAR base at St Athan airfield.

Bristow New Hangar at Stanley Airport Bristow added a new hangar and modular offices at Stanley Airport in the Falkland Islands capable to house three Sikorsky S-92 helicopters.

Metro Aviation Now Air Carrier for U.S. DoD Metro Aviation air medical operator received certification from the Commercial Airlift Review Board (CARB) to operate as an approved air carrier for the U.S. Department of Defense (DOD).