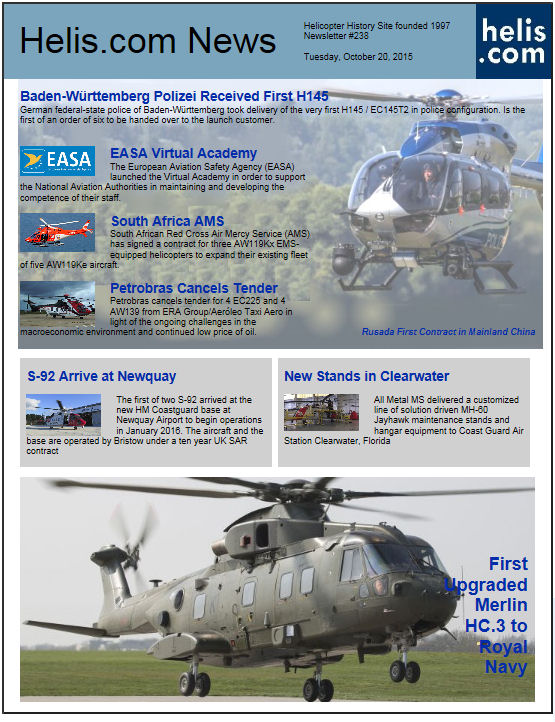 Helicopter News October 20, 2015 by Helis.com
Newsletter #238

Baden-Württemberg Polizei Received First H145 German federal-state police of Baden-Württemberg took delivery of the very first H145 / EC145T2 in police configuration. Is the first of an order of six to be handed over to the launch customer.

First Upgraded Merlin HC.3 to Royal Navy The first of seven upgraded AW101 Merlin HC Mk3 helicopters were delivered to the Royal Navy as part of Phase 1 of the Merlin Life Sustainment Programme (MLSP).

HM Coast Guard S-92 Arrive at Newquay The first of two S-92 arrived at the new HM Coastguard base at Newquay Airport to begin operations in January 2016. The aircraft and the base are operated by Bristow under a ten year UK SAR contract

New Jayhawk Maintenance Stands in Clearwater All Metal MS delivered a customized line of solution driven MH-60 Jayhawk maintenance stands and hangar equipment to Coast Guard Air Station Clearwater, Florida

Rusada First Contract in Mainland China Rusada Software and Airbus Helicopters announce that CGAMEC will utilise the Envision MRO solution for their business operations.

EASA Virtual Academy Takes Off The European Aviation Safety Agency (EASA) launched the Virtual Academy in order to support the National Aviation Authorities in maintaining and developing the competence of their staff.

South Africa AMS Orders Three AW119Kx South African Red Cross Air Mercy Service (AMS) has signed a contract for three AW119Kx EMS-equipped helicopters to expand their existing fleet of five AW119Ke aircraft.

Petrobras Cancels Aeroleo EC225 and AW139 Tender Petrobras cancels tender for 4 EC225 and 4 AW139 from ERA Group/Aeróleo Taxi Aero in light of the ongoing challenges in the macroeconomic environment and continued low price of oil.