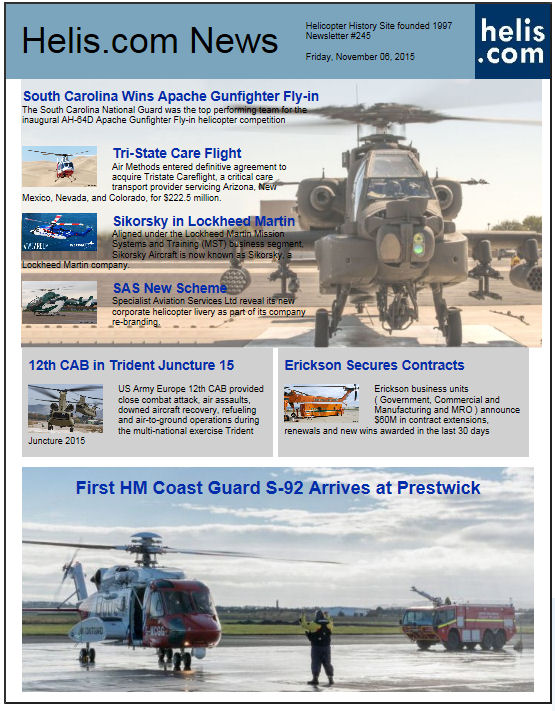 Helicopter News November 06, 2015 by Helis.com
Newsletter #245

South Carolina Apache Top Team in Gunfighter Fly-in The South Carolina National Guard was the top performing team for the inaugural AH-64D Apache Gunfighter Fly-in helicopter competition

First HM Coast Guard S-92 Arrives at Prestwick The first of two Sikorsky S-92 search and rescue (SAR) helicopters has arrived at the new HM Coastguard base at Prestwick Airport ready to begin operations in January 2016.

12th Combat Air Brigade in Trident Juncture 15 US Army Europe 12th CAB provided close combat attack, air assaults, downed aircraft recovery, refueling and air-to-ground operations during the multi-national exercise Trident Juncture 2015

Erickson Secures $60M in Contracts Erickson business units ( Government, Commercial and Manufacturing and MRO ) announce $60M in contract extensions, renewals and new wins awarded in the last 30 days

Air Methods to Acquire Tri-State Care Flight Air Methods entered definitive agreement to acquire Tristate Careflight, a critical care transport provider servicing Arizona, New Mexico, Nevada, and Colorado, for $222.5 million.

Lockheed Martin Completes Acquisition of Sikorsky Aligned under the Lockheed Martin Mission Systems and Training (MST) business segment, Sikorsky Aircraft is now known as Sikorsky, a Lockheed Martin company.

UK SAS Launches New Corporate Scheme Specialist Aviation Services Ltd reveal its new corporate helicopter livery as part of its company re-branding.