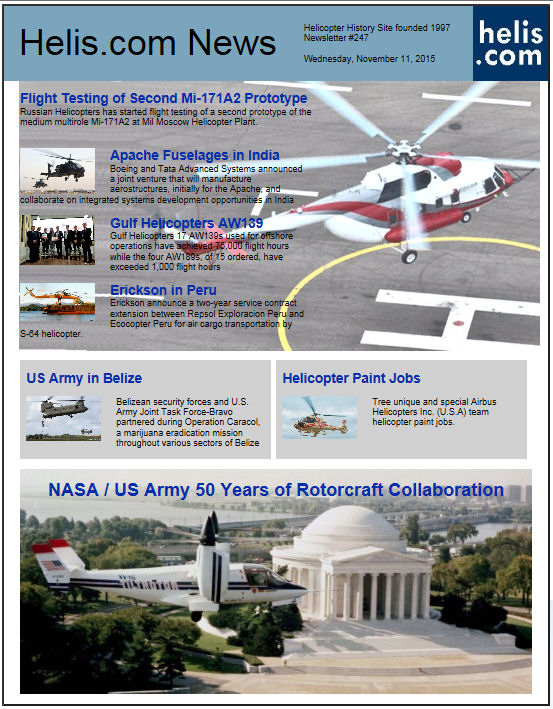 Helicopter News November 11, 2015 by Helis.com
Newsletter #247

Flight Testing of Second Mi-171A2 Prototype Russian Helicopters has started flight testing of a second prototype of the medium multirole Mi-171A2 at Mil Moscow Helicopter Plant.

NASA / US Army 50 Years of Rotorcraft Collaboration U.S. helicopters, military and civilian, are safer and more efficient today in part because of a research partnership established 50 years ago between the U.S. Army and NASA.

US Army in Belize for Counter-Drug Operation Caracol Belizean security forces and U.S. Army Joint Task Force-Bravo partnered during Operation Caracol, a marijuana eradication mission throughout various sectors of Belize

State-of-the-Art Helicopter Paint Jobs Tree unique and special Airbus Helicopters Inc. (U.S.A) team helicopter paint jobs.

Tata to Produce Apache Fuselages in India Boeing and Tata Advanced Systems announced a joint venture that will manufacture aerostructures, initially for the Apache, and collaborate on integrated systems development opportunities in India

Gulf Helicopters AW139s achieves 75,000 Hours, Gulf Helicopters 17 AW139s used for offshore operations have achieved 75,000 flight hours while the four AW189s, of 15 ordered, have exceeded 1,000 flight hours

Erickson Extends Repsol Peru Contract Erickson announce a two-year service contract extension between Repsol Exploracion Peru and Ecocopter Peru for air cargo transportation by S-64 helicopter.