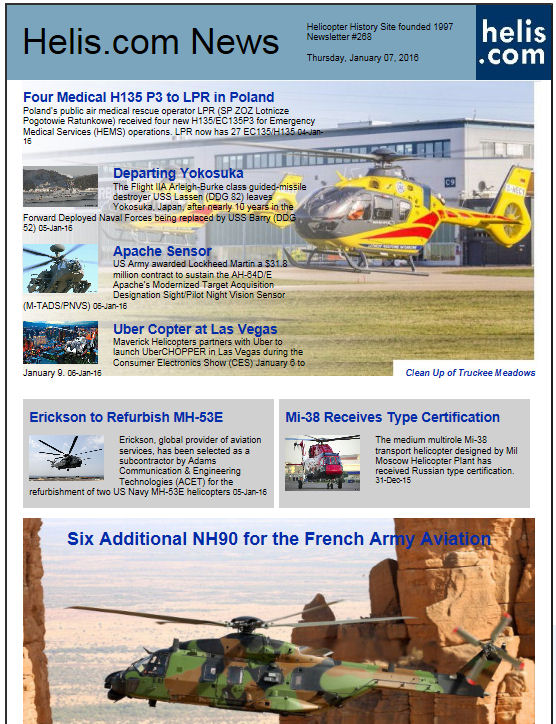 Helicopter News January 07, 2016 by Helis.com
Newsletter #268

Four Medical H135 P3 to LPR in Poland Poland's public air medical rescue operator LPR (SP ZOZ Lotnicze Pogotowie Ratunkowe) received four new H135/EC135P3 for Emergency Medical Services (HEMS) operations. LPR now has 27 EC135/H135

Six Additional NH90 for the French Army Aviation French Defence Procurement Agency (DGA) ordered 6 additional NH90 helicopters in tactical troop transport configuration. 74 NH90 TTH are now on order for the French Army Aviation (ALAT)

Erickson Subcontracted to Refurbish MH-53E Erickson, global provider of aviation services, has been selected as a subcontractor by Adams Communication & Engineering Technologies (ACET) for the refurbishment of two US Navy MH-53E helicopters

Mi-38 Receives Type Certification The medium multirole Mi-38 transport helicopter designed by Mil Moscow Helicopter Plant has received Russian type certification.

Nevada National Guard Clean Up Truckee Meadows More than 60,000 pounds of mangled steel, shattered glass, and sun-cracked rubber were removed by CH-47 Chinook helicopter from the 1-189th AVN from remote areas surrounding Reno in Nevada

USS Lassen Departs Yokosuka After 10 Years The Flight IIA Arleigh-Burke class guided-missile destroyer USS Lassen (DDG 82) leaves Yokosuka, Japan, after nearly 10 years in the Forward Deployed Naval Forces being replaced by USS Barry (DDG 52)

Apache Sensor Sustainment Contract US Army awarded Lockheed Martin a $31.8 million contract to sustain the AH-64D/E Apache's Modernized Target Acquisition Designation Sight/Pilot Night Vision Sensor (M-TADS/PNVS)

Maverick Helicopters with Uber for Las Vegas CES Maverick Helicopters partners with Uber to launch UberCHOPPER in Las Vegas during the Consumer Electronics Show (CES) January 6 to January 9.