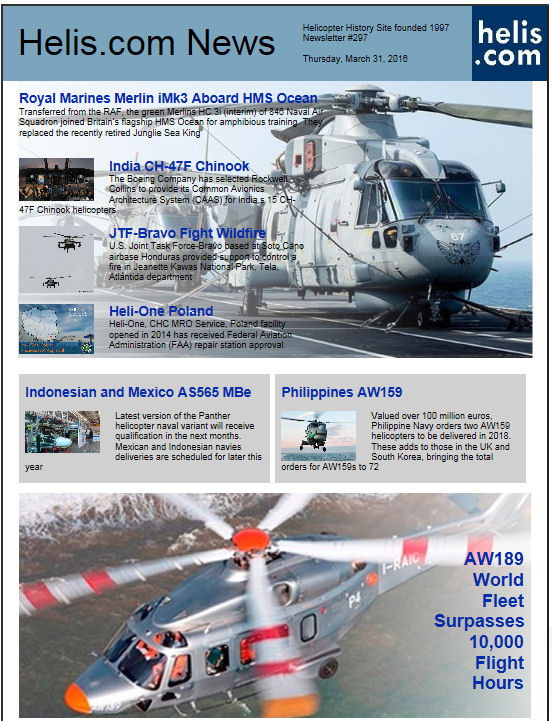 Helicopter News March 31, 2016 by Helis.com
Newsletter #297

Royal Marines Merlin iMk3 Aboard HMS Ocean Transferred from the RAF, the green Merlins HC.3i (interim) of 846 Naval Air Squadron joined Britain's flagship HMS Ocean for amphibious training. They replaced the recently retired Junglie Sea King

AW189 World Fleet Surpasses 10,000 Flight Hours Less than two years after the first aircraft delivery, AW189 helicopters in service with customers across four continents has exceeded 10,000 flight hours

Indonesian and Mexico Navies New AS565 MBe Panther Latest version of the Panther helicopter naval variant will receive qualification in the next months. Mexican and Indonesian navies deliveries are scheduled for later this year

Philippine Navy Orders Two AW159 Helicopters Valued over 100 million euros, Philippine Navy orders two AW159 helicopters to be delivered in 2018. These adds to those in the UK and South Korea, bringing the total orders for AW159s to 72

Rockwell Collins CAAS for India CH-47F Chinook The Boeing Company has selected Rockwell Collins to provide its Common Avionics Architecture System (CAAS) for India s 15 CH-47F Chinook helicopters

JTF-Bravo Support Honduras in Fighting Wildfire U.S. Joint Task Force-Bravo based at Soto Cano airbase Honduras provided support to control a fire in Jeanette Kawas National Park, Tela, Atlántida department

Heli-One Poland Received FAA Approval Heli-One, CHC MRO Service, Poland facility opened in 2014 has received Federal Aviation Administration (FAA) repair station approval.