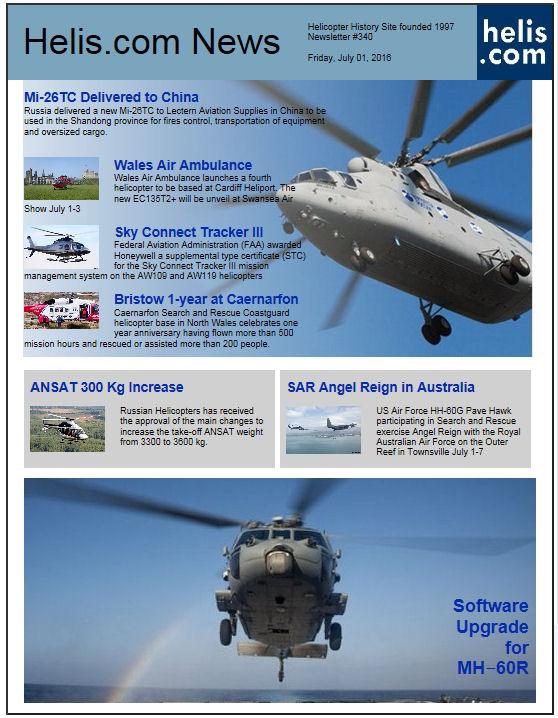 Helicopter News July 01, 2016 by Helis.com
Newsletter #340

Mi-26TC Delivered to China Russia delivered a new Mi-26TC to Lectern Aviation Supplies in China to be used in the Shandong province for fires control, transportation of equipment and oversized cargo.

Software Upgrade for US Navy and Australian MH-60R Lockheed Martin at Owego New York awarded contract for integration of software product improvement of the US Navy and Royal Australian Navy MH-60R Seahawk helicopter

ANSAT Increased Take-off Weight in 300 Kg Russian Helicopters has received the approval of the main changes to increase the take-off ANSAT weight from 3300 to 3600 kg.

USAF SAR Exercise Angel Reign in Australia US Air Force HH-60G Pave Hawk participating in Search and Rescue exercise Angel Reign with the Royal Australian Air Force on the Outer Reef in Townsville July 1-7

Wales Air Ambulance Fourth EC135T2+ Wales Air Ambulance launches a fourth helicopter to be based at Cardiff Heliport. The new EC135T2+ will be unveil at Swansea Air Show July 1-3

Sky Connect Tracker III Certified for AW109/119 Federal Aviation Administration (FAA) awarded Honeywell a supplemental type certificate (STC) for the Sky Connect Tracker III mission management system on the AW109 and AW119 helicopters

Bristow Caernarfon SAR One-year Anniversary Caernarfon Search and Rescue Coastguard helicopter base in North Wales celebrates one year anniversary having flown more than 500 mission hours and rescued or assisted more than 200 people.