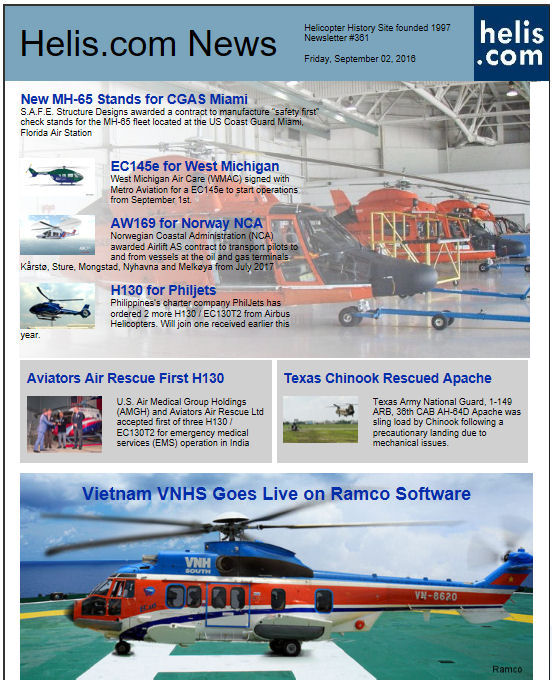 Helicopter News September 02, 2016 by Helis.com
Newsletter #361

New MH-65 Stands for CGAS Miami S.A.F.E. Structure Designs awarded a contract to manufacture "safety first" check stands for the MH-65 fleet located at the US Coast Guard Miami, Florida Air Station

Vietnam VNHS Goes Live on Ramco Software Ramco Systems from India announced the successful go-live of its Aviation Suite software at state-owned Vietnamese helicopter operator, Southern Vietnam Helicopter Company (VNHS)

India Aviators Air Rescue Gets First H130 U.S. Air Medical Group Holdings (AMGH) and Aviators Air Rescue Ltd accepted first of three H130 / EC130T2 for emergency medical services (EMS) operation in India

Texas Guards Sling Load Apache with Chinook Texas Army National Guard, 1-149 ARB, 36th CAB AH-64D Apache was sling load by Chinook following a precautionary landing due to mechanical issues.

Metro Aviation EC145e for West Michigan Air Care West Michigan Air Care (WMAC) signed with Metro Aviation for a EC145e to start operations from September 1st.

Airlift AW169 Contracted by Norway NCA Norwegian Coastal Administration (NCA) awarded Airlift AS contract to transport pilots to and from vessels at the oil and gas terminals Kårstø, Sture, Mongstad, Nyhavna and Melkøya from July 2017

Philjets Ordered Two More H130 Philippines's charter company PhilJets has ordered 2 more H130 / EC130T2 from Airbus Helicopters. Will join one received earlier this year.