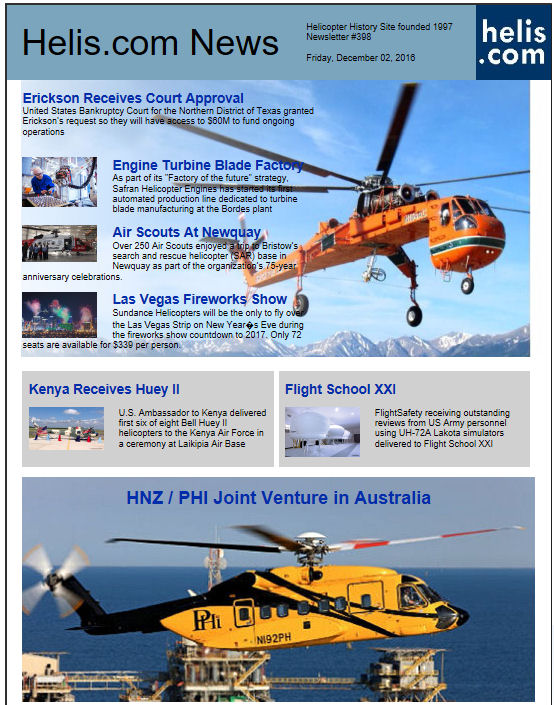 Helicopter News December 02, 2016 by Helis.com
Newsletter #398

Erickson Receives Court Approval United States Bankruptcy Court for the Northern District of Texas granted Erickson's request so they will have access to $60M to fund ongoing operations

HNZ / PHI Joint Venture in Australia PHI will supply up to four S-92 helicopters for offshore services out of Broome in Australia for the INPEX-led Ichthys LNG Project.

Kenya Receives Huey II U.S. Ambassador to Kenya delivered first six of eight Bell Huey II helicopters to the Kenya Air Force in a ceremony at Laikipia Air Base

Lakota Simulators at Flight School XXI FlightSafety receiving outstanding reviews from US Army personnel using UH-72A Lakota simulators delivered to Flight School XXI

Helicopter Engine Turbine Blade Factory As part of its "Factory of the future" strategy, Safran Helicopter Engines has started its first automated production line dedicated to turbine blade manufacturing at the Bordes plant

Bristow Hosts Air Scouts At Newquay Over 250 Air Scouts enjoyed a trip to Bristow's search and rescue helicopter (SAR) base in Newquay as part of the organization's 75-year anniversary celebrations.

New Year's Eve Las Vegas Strip Fireworks Show Sundance Helicopters will be the only to fly over the Las Vegas Strip on New Year's Eve during the fireworks show countdown to 2017. Only 72 seats are available for $339 per person.