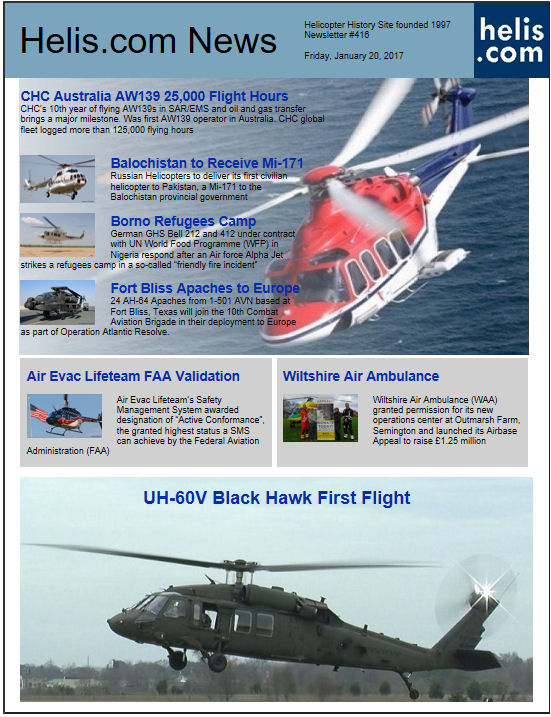 Helicopter News January 20, 2017 by Helis.com
Newsletter #416

CHC Australia AW139 Reaches 25,000 Flight Hours CHC's 10th year of flying AW139s in SAR/EMS and oil and gas transfer brings a major milestone. Was first AW139 operator in Australia. CHC global fleet logged more than 125,000 flying hours

UH-60V Black Hawk First Flight After a 2 years development US Army Redstone Arsenal achieves first flight of the UH-60V prototype. It is a UH-60L upgraded with the Northrop Grumman/Curtiss-Wright glass cockpit of the UH-60M

Air Evac Lifeteam Earns FAA Validation Air Evac Lifeteam's Safety Management System awarded designation of "Active Conformance", the granted highest status a SMS can achieve by the Federal Aviation Administration (FAA)

Wiltshire Air Ambulance Airbase Appeal Wiltshire Air Ambulance (WAA) granted permission for its new operations center at Outmarsh Farm, Semington and launched its Airbase Appeal to raise £1.25 million

Pakistan Balochistan Province to Receive Mi-171 Russian Helicopters to deliver its first civilian helicopter to Pakistan, a Mi-171 to the Balochistan provincial government

GHS Helicopters Helped in Borno Refugees Camp German GHS Bell 212 and 412 under contract with UN World Food Programme (WFP) in Nigeria respond after an Air force Alpha Jet strikes a refugees camp in a so-called "friendly fire incident"

Fort Bliss Apaches set to Deploy to Europe 24 AH-64 Apaches from 1-501 AVN based at Fort Bliss, Texas will join the 10th Combat Aviation Brigade in their deployment to Europe as part of Operation Atlantic Resolve.