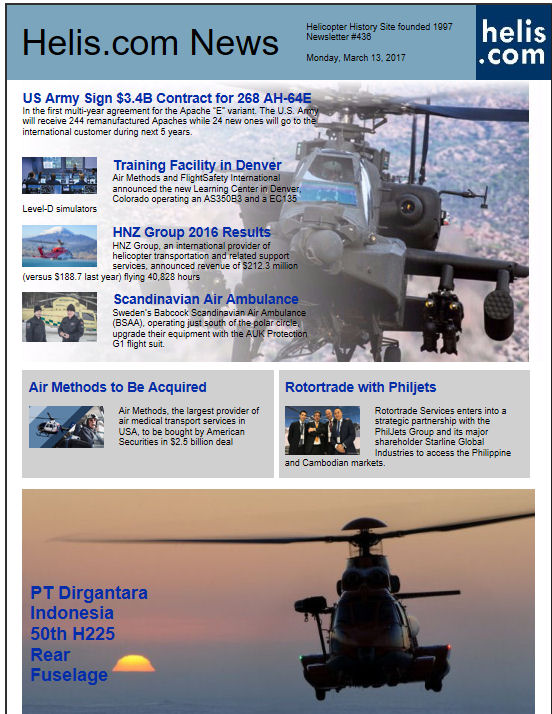 Helicopter News March 13, 2017 by Helis.com
Newsletter #436

US Army Sign $3.4B Contract for 268 AH-64E In the first multi-year agreement for the Apache "E" variant. The U.S. Army will receive 244 remanufactured Apaches while 24 new ones will go to the international customer during next 5 years.

PT Dirgantara Indonesia 50th H225 Rear Fuselage PT Dirgantara Indonesia (PTDI), which became H225/EC225' supplier main airframe in 2008 with full production in place by 2011, delivered the 50th 'Made-in-Indonesia' rear fuselage

Air Methods to Be Acquired by American Securities Air Methods, the largest provider of air medical transport services in USA, to be bought by American Securities in $2.5 billion deal

Rotortrade Services Partners with Philjets Group Rotortrade Services enters into a strategic partnership with the PhilJets Group and its major shareholder Starline Global Industries to access the Philippine and Cambodian markets.

New Training Facility in Denver, Colorado Air Methods and FlightSafety International announced the new Learning Center in Denver, Colorado operating an AS350B3 and a EC135 Level-D simulators

HNZ Group Reports 2016 Year-End Results HNZ Group, an international provider of helicopter transportation and related support services, announced revenue of $212.3 million (versus $188.7 last year) flying 40,828 hours

Scandinavian Air Ambulance New Flight Suits Sweden's Babcock Scandinavian Air Ambulance (BSAA), operating just south of the polar circle, upgrade their equipment with the AUK Protection G1 flight suit.