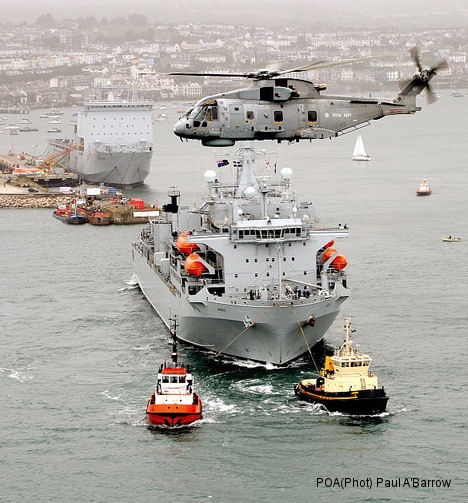 Britains response to the
West African Ebola 2014 virus outbreak
was initially to despatch an Army medical team from 22 Field Hospital, with its protective clothing and CBRN equipment, to Ferry Town at the southern end of the Freetown peninsula in Sierra Leone, to build and staff a 12 bed treatment centre for healthcare workers fighting the disease in country. The British Army 3 Rifles and 1 Armoured Medical Regiment were on the ground, further inland.
The mission was then expanded with the commitment of RFA Argus (the UKs Primary Casualty Receiving Ship) and a detachment of 539 Assault Squadron, Royal Marines, 820 Naval Air Squadron Merlins and personnel from the FAA Maritime Aviation Support Force to provide an offshore general treatment centre (ie non-
Ebola
-related cases) for medical staff fighting the outbreak and to transport stores to assist in the building of the first of at least 4 more onshore treatment centres at Freetown, Bo, Makeni, and Port Loko.
The first UK built
Ebola
treatment hospital was handed over to
Save the Children
on 5 Nov and there were c 750 British military personnel in country by then.
After a 6 month deployment, RFA Argus returned to Mounts Bay, anchoring off Porthleven, where she disembarked the 820 NAS Flight of 3 Merlin HM.2
ZH850
,
ZH856
and
ZH864
on 6 Apr 2015, before entering Falmouth on 7 Apr. The Army team from 34 Field Hospital returned to the UK on 6 Jul.

Dates
Rotary Wing Aircraft Unit
Models
17oct14 to 06apr15
820 Squadron Fleet Air Arm
EH101









Not all models shown may have taken part in the Operation

Individual helicopters