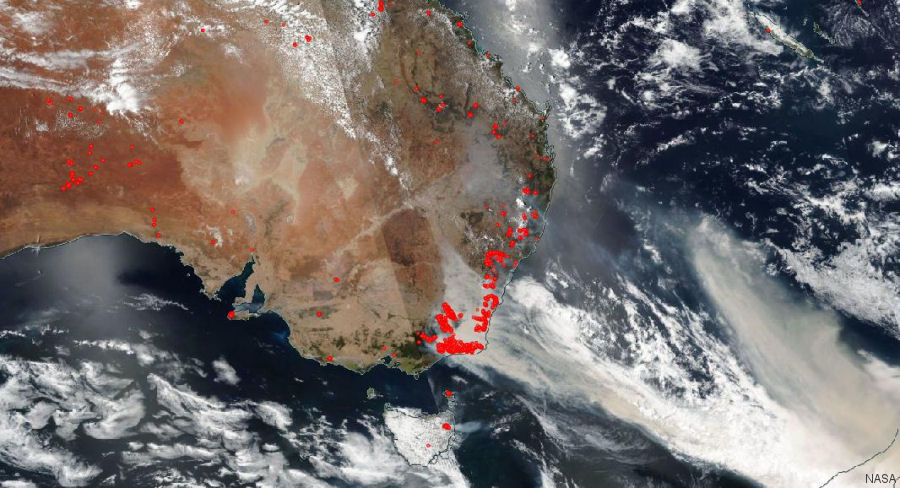 Australia's climate has a hot dry season in Summer and this season's bush fires started in Sep 2019, after sporadic fires as early as Jul 2019, made worse by coming after a period of prolonged drought.
The previous worse fires were in 2009 on Black Saturday when $4.4Bn economic damage was caused and devastated 450,000 hectares, to the north of Melborne. This season has destroyed at least 8.4M hectares all along the south east coast, including serious damage to Cobargo and Mogo on the NSW south coast, and Mallacoota in the far south-east of Victoria. Parts of South Australia and Tasmania have also been affected.
As well as the consequences of the fires on Australia, smoke and ash plumes from the fires have passed New Zealand in the general easterly circulation and in a report from NASA in early Jan 2020, forecast that they could join up to encircle the southern hemisphere, reducing air quality everywhere.
The federal government in Canberra had committed at least $AUS 20M by Jan 2020, to lease scores of firefighting aircraft (helicopter and fixed wing) to attack the fires, but the government has been slow to declare a State of Emergency. The Australian Defence Force has partially mobilised to assist and overseas governments have sent troops and equipment to help, in particular New Zealand and Singapore.
Lives, wildlife and property has been destroyed and in rural areas roads are having to close and food and fuel supplies are being topped up by emergency deliveries by the defence forces. The
Australian Red Cross
is coordinating international donations of money (
https://fundraise.redcross.org.au/drr
) to fight more than 200 individual blazes.

In a 27 Jan 2020 ceremony near
Penneshaw
on Kangaroo Island, SA, a unit of New Zealand engineers departed after specialist support during Operation Bushfire Assist.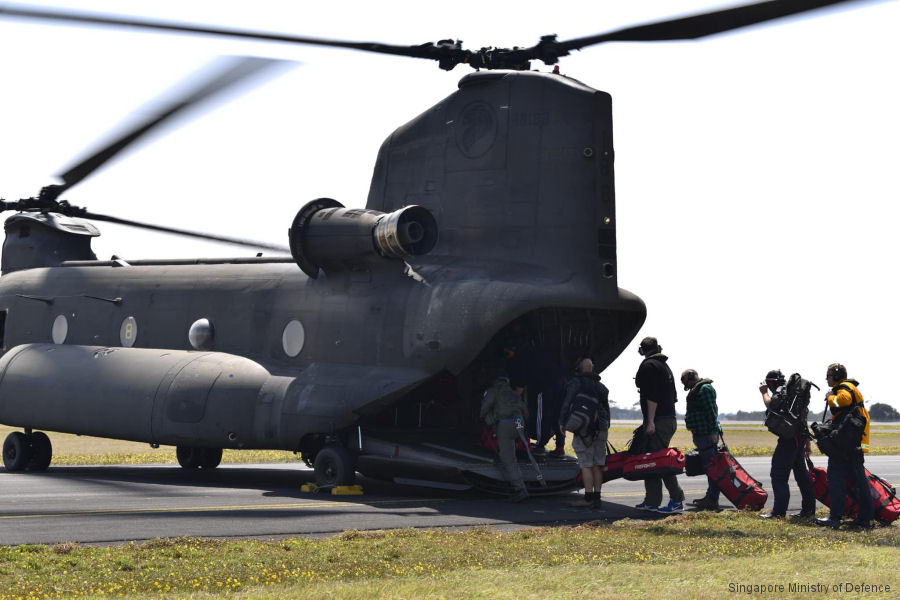 Singapore Chinooks Ended Bushfires Mission, 07-Feb-20 : #AustraliaBushfires The two Republic of Singapore Air Force (RSAF) CH-47D Chinook ended their 1-month deployment for Operation Bushfires Assist flying over 30 sorties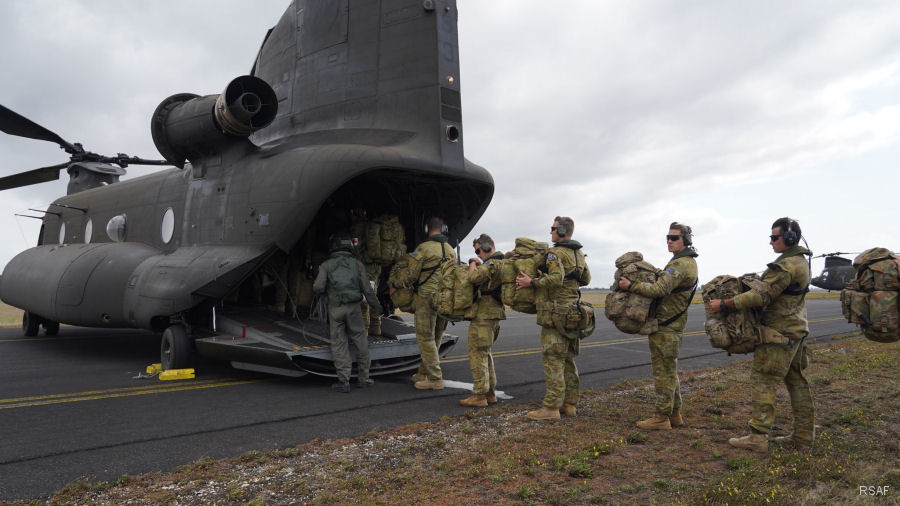 Bristow Supports Singapore Chinooks in Australia, 15-Jan-20 : #AustraliaBushfire Bristow Defence Industries (BDI) supported the Republic of Singapore Air Force (RSAF) training detachment based in Oakey, Queensland to deployed the two CH-47D Chinook to RAAF East Sale against the Australian Bushfires
Operation Bushfire Assist 2019-2020, 10-Jan-20 :

#bushfires Summary of Australian Defence Force (ADF) humanitarian aid response for Operation Bushfire Assist 2019-2020. The ADF has been working with Emergency Management in firefighting efforts in NSW, QLD, WA, VIC and SA since November 8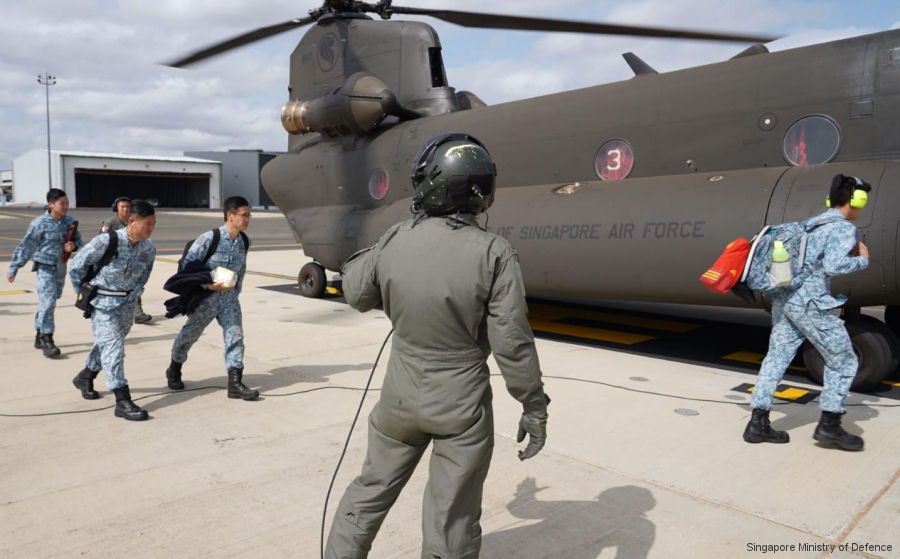 Singapore Chinooks Joins Australia Bushfires Fight, 08-Jan-20 :

#AustraliaBushfires Two Republic of Singapore Air Force (RSAF) CH-47D Chinook helicopters from the training detachment based at Australian Army Aviation Centre Oakey were deployed to RAAF East Sale in Victoria to join the Australian bushfires firefighting campaign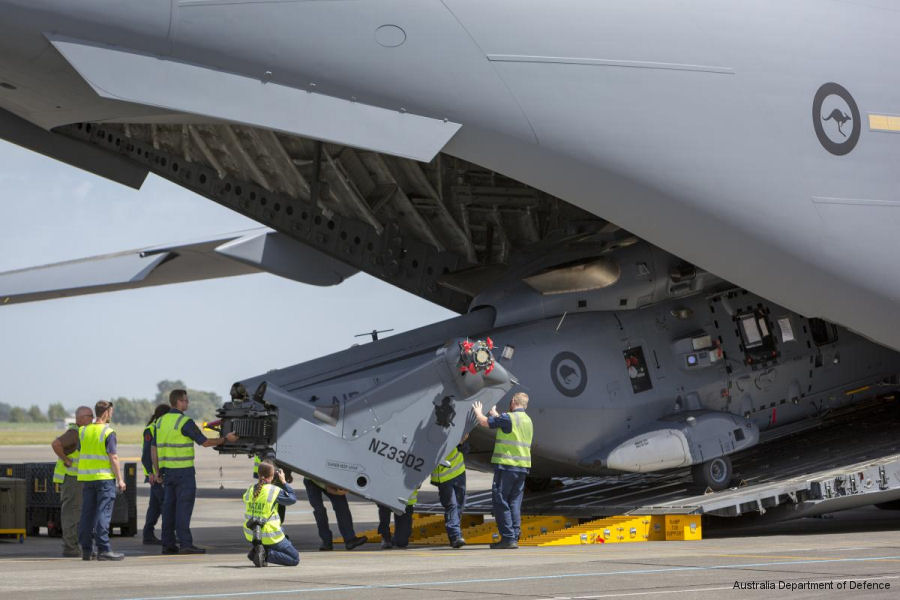 Kiwi NH90 Deployed Against Australia Bushfires, 08-Jan-20 :

#Bushfires Kiwi contingent to take flight for cousins. RAAF C-17 cargo aircraft delivering three Royal New Zealand Air Force NH90 helicopters to Australia for firefighting as part of Operation Bushfire Assist
NH Industries
MRH90 Taipan

A40-022 pictured departing Canberra Airport for bushfire tasking.
NH Industries
MRH90 Taipan

A40-022 pictured departing Canberra Airport for bushfire tasking.


Aerospatiale
AS350B2 Ecureuil

VH-ZHM pictured departing Canberra Airport as Firebird 260
Aerospatiale
AS350B2 Ecureuil

VH-ZHM pictured departing Canberra Airport as Firebird 260


Bell
212

VH-UEC pictured (pic2) in NRMA Insurance livery at Wagga Wagga Airport as Helitak 296.
Bell
212

VH-UEC pictured (pic2) in NRMA Insurance livery at Wagga Wagga Airport as Helitak 296.


Bell
UH-1D Iroquois

VH-UEE pictured at Wagga Wagga Airport as Helitak 422
Bell
UH-1D Iroquois

VH-UEE pictured at Wagga Wagga Airport as Helitak 422


Sikorsky
S-70A-9 Black Hawk

A25-210 jan20 pictured (pic2) during Operation Bushfire Assist
Sikorsky
S-70A-9 Black Hawk

A25-210 jan20 pictured (pic2) during Operation Bushfire Assist


NH Industries
MRH90 Taipan

A40-045 pictured in south east Australia operating from HMAS Choules (L100) during Operation Bushfire Assist
NH Industries
MRH90 Taipan

A40-045 pictured in south east Australia operating from HMAS Choules (L100) during Operation Bushfire Assist


Eurocopter
AS350B3 Ecureuil

VH-ZBQ pictured at Wagga Wagga Airport, Frontier Helicopters, operated by Pays Helicopters as Firebird 707.
Eurocopter
AS350B3 Ecureuil

VH-ZBQ pictured at Wagga Wagga Airport, Frontier Helicopters, operated by Pays Helicopters as Firebird 707.


NH Industries
NH90 TTH

NZ3302 06jan19 pictured (pic2) first of three NH90 by RAAF C-17 to Australia for Operation Bushfire Assist
NH Industries
NH90 TTH

NZ3302 06jan19 pictured (pic2) first of three NH90 by RAAF C-17 to Australia for Operation Bushfire Assist


Bell
206L-3 Long Ranger

VH-ZUY pictured (pic2) at Wagga Wagga Airport as Firebird 295.
Bell
206L-3 Long Ranger

VH-ZUY pictured (pic2) at Wagga Wagga Airport as Firebird 295.


Boeing
CH-47F Chinook

A15-301 pictured (pic2) departing a hazy Wagga Wagga after a fuel stop, on route to assist with the bushfires in Victoria.
Boeing
CH-47F Chinook

A15-301 pictured (pic2) departing a hazy Wagga Wagga after a fuel stop, on route to assist with the bushfires in Victoria.


Boeing
CH-47F Chinook

A15-308 pictured departing a hazy Wagga Wagga after a fuel stop, on route to assist with the bushfires in Victoria.
Boeing
CH-47F Chinook

A15-308 pictured departing a hazy Wagga Wagga after a fuel stop, on route to assist with the bushfires in Victoria.


Boeing
CH-47F Chinook

A15-303 pictured (pic2) departing a hazy Wagga Wagga after a fuel stop, on route to assist with the bushfires in Victoria.
Boeing
CH-47F Chinook

A15-303 pictured (pic2) departing a hazy Wagga Wagga after a fuel stop, on route to assist with the bushfires in Victoria.


Sikorsky
MH-60R Seahawk

N48-021 pictured 816 Sqn Flight 6 at Wagga Wagga Airport.
Sikorsky
MH-60R Seahawk

N48-021 pictured 816 Sqn Flight 6 at Wagga Wagga Airport.


Eurocopter
AS350B2 Ecureuil

VH-XXM pictured at HMAS Albatross as Firebird 208
Eurocopter
AS350B2 Ecureuil

VH-XXM pictured at HMAS Albatross as Firebird 208


Bell
UH-1D Iroquois

VH-OXU pictured (pic3) at HMAS Albatross, as Helitak 258
Bell
UH-1D Iroquois

VH-OXU pictured (pic3) at HMAS Albatross, as Helitak 258


Sikorsky
UH-60A Black Hawk

N563DJ pictured (pic2) at HMAS Albatross as Helitak 260
Sikorsky
UH-60A Black Hawk

N563DJ pictured (pic2) at HMAS Albatross as Helitak 260


Bell
204B

VH-VRC pictured at HMAS Albatross as Helitak 297
Bell
204B

VH-VRC pictured at HMAS Albatross as Helitak 297


Eurocopter
AS350B2 Ecureuil

VH-ICM pictured HMAS Albatross, as Firebird 288
Eurocopter
AS350B2 Ecureuil

VH-ICM pictured HMAS Albatross, as Firebird 288


Aerospatiale
AS350B Ecureuil

VH-JVS pictured (pic2) at at HMAS Albatross, as Firebird 272
Aerospatiale
AS350B Ecureuil

VH-JVS pictured (pic2) at at HMAS Albatross, as Firebird 272


Bell
206B-2 Jet Ranger

VH-BLR pictured at HMAS Albatross, Firebird 231 returning from the fire ground.
Bell
206B-2 Jet Ranger

VH-BLR pictured at HMAS Albatross, Firebird 231 returning from the fire ground.


Bell
214B

N281JL pictured at Wagga Wagga Airport, heading to Tasmania as Helitak 413.
Bell
214B

N281JL pictured at Wagga Wagga Airport, heading to Tasmania as Helitak 413.


Bell
UH-1H Iroquois

VH-LUE pictured (pic3) at HMAS Albatross as Helitak 272
Bell
UH-1H Iroquois

VH-LUE pictured (pic3) at HMAS Albatross as Helitak 272


Bell
412SP

C-FWTQ pictured at HMAS Albatross as Helitak 274
Bell
412SP

C-FWTQ pictured at HMAS Albatross as Helitak 274


Kawasaki
BK117B-1

VH-FHF pictured (pic2) at HMAS Albatross as Helitak 226
Kawasaki
BK117B-1

VH-FHF pictured (pic2) at HMAS Albatross as Helitak 226


Bell
214B

C-GOOB pictured HMAS Albatross operating for McDermott Aviation / Heli-Lift Australia as Helitak 408
Bell
214B

C-GOOB pictured HMAS Albatross operating for McDermott Aviation / Heli-Lift Australia as Helitak 408


Aerospatiale
AS350B Ecureuil

VH-UTM as as Firebird 242 pictured at HMAS Albatross
Aerospatiale
AS350B Ecureuil

VH-UTM as as Firebird 242 pictured at HMAS Albatross


Aerospatiale
AS350D Astar

VH-TSV pictured at Narrabri Airport, as Firebird 227
Aerospatiale
AS350D Astar

VH-TSV pictured at Narrabri Airport, as Firebird 227


Bell
UH-1H Iroquois

VH-LUE pictured (pic2) at Narrabri Airport, as Helitak 272. Fitted with a new tail boom.
Bell
UH-1H Iroquois

VH-LUE pictured (pic2) at Narrabri Airport, as Helitak 272. Fitted with a new tail boom.


Bell
206B-3 Jet Ranger

VH-JWF pictured Narrabri Airport, as Firebird 239
Bell
206B-3 Jet Ranger

VH-JWF pictured Narrabri Airport, as Firebird 239


Bell
206L-3 Long Ranger

VH-ONR pictured (pic2) at Narrabri Airport, as Firebird 233
Bell
206L-3 Long Ranger

VH-ONR pictured (pic2) at Narrabri Airport, as Firebird 233


Eurocopter
AS350B2 Ecureuil

VH-ONS pictured at Narrabri Airport, operating as Firebird 221
Eurocopter
AS350B2 Ecureuil

VH-ONS pictured at Narrabri Airport, operating as Firebird 221


Bell
204B

VH-EJL pictured (pic2) at Narrabri Airport as Helitak 343
Bell
204B

VH-EJL pictured (pic2) at Narrabri Airport as Helitak 343


Sikorsky
CH-54A Tarhe

N247AC as /Jerry pictured at Wagga Wagga Airport, Australia
Sikorsky
CH-54A Tarhe

N247AC as /Jerry pictured at Wagga Wagga Airport, Australia