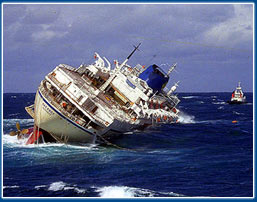 The Oceanos was a Greek registered ship, en route from Cape Town to Durban on a pleasure cruise. Early in the morning of August 4th, 1991 the Oceanos encountered adverse weather conditions and rough seas. The vessel began to take on water, an SOS was sent soon after, and she started to sink.
All the passengers and crew aboard (571) were saved through the use of liferafts and by waves of 16
South African Air Force
helicopters, a dramatic rescue operation in appalling conditions. It is amazing that not one life was lost, making it one of the largest and most successful sea rescues ever performed.
The first helicopters started airlifting at 7am completing 225 people when the last survivors were rescued at 11.30am of that morning, a mere 25 minutes before the ship sunk.
Dates
Rotary Wing Aircraft Unit
Models
15 squadron Suid-Afrikaanse Lugmag
Oryx









Not all models shown may have taken part in the Operation