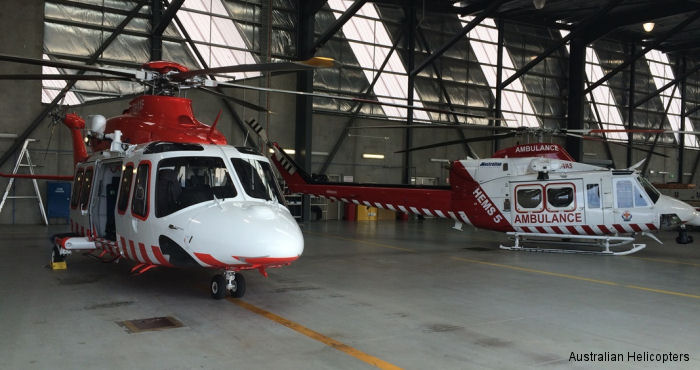 Established in 1990 as Reef Helicopters in Northern Queensland providing EMS and surveillance services. In 2003 merged with Marine Helicopters, adding bases at Mackay, Gladstone and Newcastle. A year later, the company rebranded to Australian Helicopters Pty Ltd, and over the next five years, expanded to incorporate working with the South Australian Government, Boeing, Queensland Emergency Services and Ambulance Victoria.
Was part of
Avincis Group
until 2014 when acquired by
Babcock International
and rebranded
Babcock MCS Australasia Pty Ltd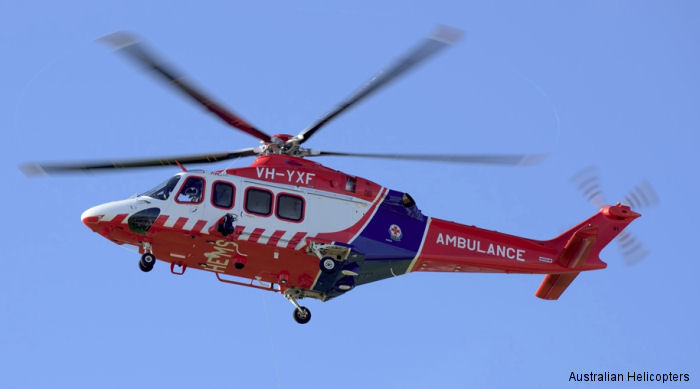 Australian Helicopters New AW139 Ambulance, 29-Jul-15 : Australian Helicopters unveiled one of the new AW139 air ambulances which will be used to support Ambulance Victoria when the 10-year contract starts next January.
Model
C/N
Built
ID
412EP
36374
2005
VH-CQJ : Australian Helicopters Pty from Sep13

AS350B3 Ecureuil
4176
2006
VH-CWP : Australian Helicopters from Jan07; Babcock MCS Australasia Pty Lt ...

412
33001
1981
VH-EMZ : Australian Helicopters from Aug07; w/o 17jun13 at Torres Strait, ...

412EP
36204
1998
VH-EPR : Australian Helicopters from Oct13; Babcock Mission Critical Servi ...

AS350B Ecureuil
2181
1989
VH-HHO : Australia from Mar03
: Australian Helicopters from May06, AS.350BA type

AS350B Ecureuil
2186
1989
VH-HPO : Australia from Dec98
: Australian Helicopters from May06, AS350BA type

AS350B Ecureuil
1607
1983
VH-HQO : Australian Helicopters from May06, conv AS.350BA type

369E / 500E
0347E
1989
VH-HVO : Australian Helicopters Jun97.

AB412
25571
1988
VH-LSA : Australia from Nov05
: Australian Helicopters from Dec06

AB412SP
25626
1992
VH-LSV : Australian Helicopters Pty from May07; Babcock MCS Australasia fr ...

412SP
36015
1990
VH-LSY : Australian Helicopters from May07; 2014 rebrand Babcock MCS Austr ...

206B-3 Jet Ranger
3810
1984
VH-NDY : Australian Helicopters from Oct08

MD369E / MD500E
0117E
1985
VH-NPC : Australian Helicopters from Apr07
: Babcock MCS Australasia Pty Ltd at Bowen Hills, QLD from 2014

MD369E / MD500E
0352E
1989
VH-NPH : Australia from Jan98
: Australian Helicopters from May06

EC130B4
3968
2005
VH-OSA : Australian Helicopters from 30aug05

AW139
31498
2013
VH-PWY : Babcock Offshore Services Australasia Pty Ltd from Feb17

412EP
36236
1999
VH-RHJ : test serial C-GFNK, Australia from Nov99
: Australian Helicopters from May06; Jul19 still

412EP
36507
2008
VH-VAO : Australian Helicopters d/d Jan09; Ambulance HEMS 4

412EP
36504
2008
VH-VAS : Australian Helicopters Nov08, test serial N357JB

412EP
36203
1998
VH-VAU : Australian Helicopters from 03nov11
: 26apr14 pictured (pic2) at Wagga Wagga Airport

BK117B-1
1057
1990
VH-VRP : Australia from Sep05
: Australian Helicopters from May06, conv B2 type

Bk117B-1
7186
1990
VH-VSA : Australian Helicopters from May06, conv b-2 type

AW139
31591
2014
VH-YXF : Australian Helicopters from Feb15, test serial I-EASM, I-PTFS

AW139
31606
2015
VH-YXG : Australian Helicopters from Jun15, test serial I-EASG

AW139
31607
2015
VH-YXH : Australian Helicopters from Nov15

AW139
31618
2015
VH-YXI : Australian Helicopters from Sep15, test serial I-RAIK

AW139
31620
2015
VH-YXJ : Australian Helicopters from Sep15, test serial I-EASG

AW139
31624
2016
VH-YXK : Australian Helicopters from Sep16


28 Construction Numbers in this organisation found