HeliDax is a privately-held company which has been chosen in 2008 by the French government to supply the flight hours required for the basic and advanced training of French Armed Forces. Belgium Forces military helicopters pilots joined later. HeliDax is based in the Light Army Aviation School in Dax and operates 36 EC120 modified to fit the specifics requirement of the French MoD.
As of February 2018, this fleet totalize 153.000 flight hours and have two shareholders: DCI (Defense Conseil International) and
Babcock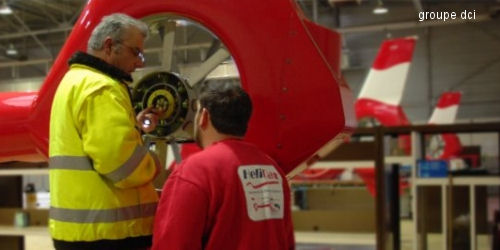 30,000 flight hour mark reached by Helidax, 29-Feb-12 : Paris - Helidax, a subsidiary of DCI and INAER, announces that it has exceeded 30,000 flight hours on EC120 Colibri aircraft, in less than 2 years of operation. Helidax is the first public-private partnership (PPP) launched by the French Ministry of Defense in 2008. This partnership concerns the supply of helicopter flight hours, for 22 years, to the Army's light aviation school (EA-ALAT) in Dax.
Model
Del'd
From
To
EC ec120
39
2010