An international division of
INAER
Avincis appoints new CEO Latin America, 04-Mar-13 : Avincis Group (Avincis), the world's leading provider of aerial services for mission critical operations, is pleased to announce the appointment of Ian Kümmerlin as Regional CEO Latin America, with immediate effect.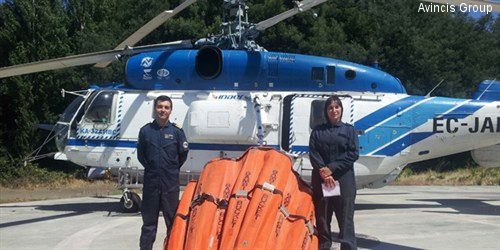 INAER Chile reinforces firefighting fleet, 05-Feb-13 : INAER Helicopter Chile, aware of the importance of conserving the environment, has once again this year reinforced its fleet of aircraft for the 2012-2013 firefighting campaign with helicopters from the now-completed summer campaign in Spain and Portugal, where they intervened in numerous forest fires.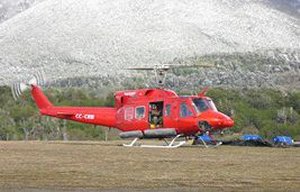 INAER opens a new HEMS base in Chile, 01-Dec-11 : In the city of Puerto Varas has been installed an emergency helicopter operations center for southern Chile. At the base, a Bell 212 helicopter will operate, equipped with a mobile ICU and medical equipment for the patient to receive the first care, stabilization in the accident site and care during transport to hospital.
Model
C/N
Built
ID
407
53599
CC-AEC : INAER; Banco de Credito e Inversiones 2012

407
53601
CC-AED : INAER Chile

AW109E Power
11119
CC-AEO : INAER for Clinica Las Condes, Santiago; Rescate CLC (HEMS)

AS355NP Ecureuil 2 / TwinStar
5752
CC-AHT : Inaer Chile; damaged after takeoff from María Dolores de Los An ...

407
53063
1996
CC-AQH : Helicopteros del Pacifico, Ltda; w/o 12jan17 during firefighting ...

AS350B3 Ecureuil
3677
2003
CC-ARK : Helicoptero Calquin; w/o 09feb17 during inspection of power line ...

407
53864
2008
CC-CIO : Inaer Chile

212
30932
CC-CIS : INAER Chile, ntu?

407
53727
CC-CIU : INAER; 9oct08 visit Antwerp
: INAER; ex C-FLFC; 2012 on Rally Dakar Argentina/Chile/Peru

AS350B3 Ecureuil
4288
2007
CC-CIX : INAER; 9oct08 visit Antwerp

407
53795
2007
CC-CRA : INAER Chile 2008

212
30558
CC-CRB : INAER; Jan.2012 fire fighting at Puerto Natales, Chile

Ka-32A11BC
09801
CC-CXV : Inaer Chile; 2009-2010 still in Portugal

Ka-32A11BC
09713
EC-JUZ : INAER Chile; fire fighting at Puerto Natales


14 Construction Numbers in this organisation found