The Commissioners of Irish Lights (CIL) is the General Lighthouse Authority for all the waters around Ireland (both Eire and Northern Ireland). It began its work in 1786, although assisting maritime navigation activities go back much farther.
CIL began a programme of automation of its Lights and helicopter operations around 1970, with some of the more remote Lights having helicopter platforms built alongside, on precarious rock ledges. It has small fleet of Lighthouse Tenders which support helicopter operations from the deck.
In Oct 2014, a 7 year shared services agreement was concluded between the Commissioners,
Trinity House
and the
Northern Lighthouse Board
(contracting as the General Lighthouse Authorities of the United Kingdom and Ireland) and PDG Helicopters, to commence in Dec 2015.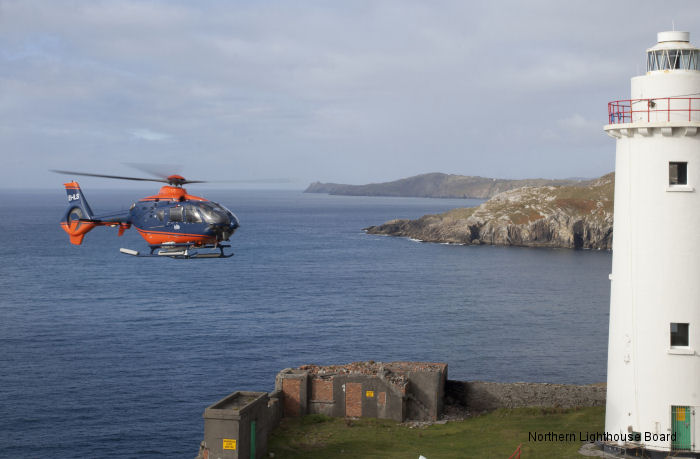 General Lighthouse Authorities with PDG Helicopters, 02-Oct-14 : The General Lighthouse Authorities (GLAs) of the UK and Ireland have announced a £13M seven-year contract to PDG Helicopters for the provision of helicopter services to cover all three Authorities.
Model
Del'd
From
To
Eurocopter EC135T2+




Model
C/N
Built
ID
EC135T2+
0712
2008
EI-ILS : Lighthouse Operations, op by Irish Helicopters






1 Construction Numbers in this organisation found