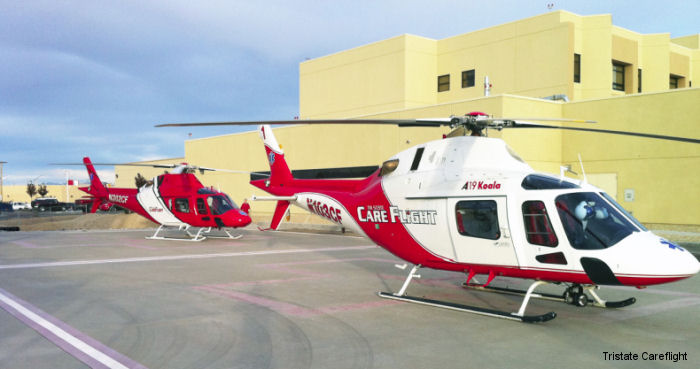 Founded in 2002, TriState CareFlight is critical care transport service located in the Western United States, with 35 bases spread throughout Arizona, Nevada, Colorado, New Mexico, Oregon, Idaho, and Washington.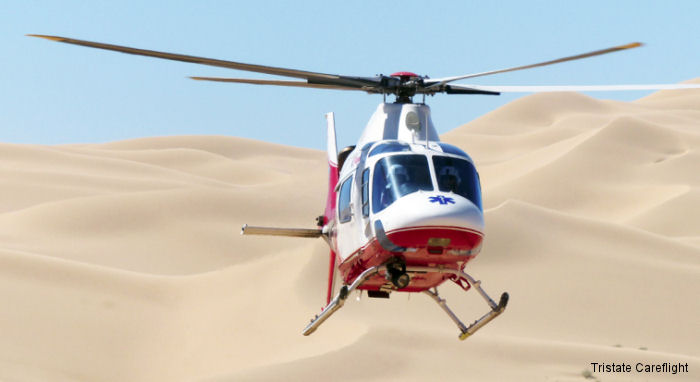 Air Methods to Acquire Tri-State Care Flight, 05-Nov-15 : Air Methods entered definitive agreement to acquire Tristate Careflight, a critical care transport provider servicing Arizona, New Mexico, Nevada, and Colorado, for $222.5 million.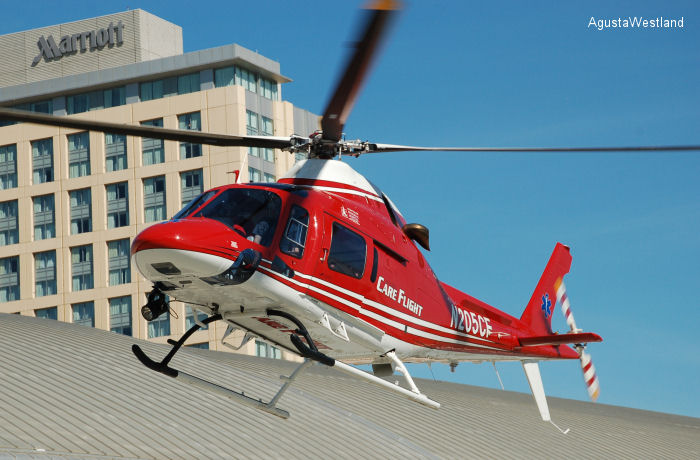 TriState CareFlight reaches 60,000 Hours, 23-Oct-13 : AgustaWestland, a Finmeccanica company, is pleased to announce that TriState CareFlight, an air medical transport service operating in the Southwestern United States, has reached a fleet milestone of 60,000 hours.
Model
C/N
Built
ID
A119 Koala
14021
2001
N103CF : TriState CareFlight Jun03, ex N22UW; 18jan12 pictured at Phoenix ...

A119 Koala
14022
2001
N119AH : TriState Careflight Oct02, ex N911SL; 22oct09 sustained substanti ...

A119 Koala
14054
2005
N202CF : TriState Careflight Sep08, ex N911AM

A119 Koala
14032
2003
N203CF : TriState Careflight Dec03, ex N18YC

A119 Koala
14006
2000
N207CF : TriState Careflight 2006 as N119AM, reser Oct08; pictured

AW109E Power
11504
2001
N209CF : TriState Care Flight from Jun09

A119 Koala
14010
2000
N303CF : TriState CareFlight Dec09, Arizona, ex N5LF
: 03apr13 pictured (pic2) at Phoenix Deer Valley, AZ

AW109E Power
11503
2001
N309CF : Tri State Care Flight at Bullhead City, AZ from Oct11

AS350B3 Ecureuil
4526
2008
N354CF : Tristate Careflight at Bullhead City, AZ from Oct09

AS350B3 Ecureuil
4644
2009
N355CF : Tristate CareFlight Apr10-Jul16

A109E Power
11102
2001
N365AA : TriState Careflight from Oct14

A119 Koala
14009
2000
N403CF : TriState Careflight from Jul04; w/o 30jun05 crashed at Marcos, C ...

A119 Koala
14041
2004
N41RX : TriState CareFlight at Bullhead City, AZ Nov04-Sep05

A109E Power
11067
2000
N507CF : TriState Care Flight from Sep12; w/o 17jul14 near Newkirk, New M ...

A119 Koala
14041
2004
N603CF : TriState Careflight from Sep05
: 07oct14 tail rotor struck fence at Chiriaco Summit Airport

A119 Koala
14058
2006
N605CF : TriState CareFlight at Bullhead City, AZ from Nov13

A119 Koala
14027
2003
N608CF : Tristate Careflight from Apr13

AW119 Koala
14538
2007
N803CF : Tri-state Care Flight at Bullhead City, AZ from Jan08


17 Construction Numbers in this organisation found